historical romance
Tag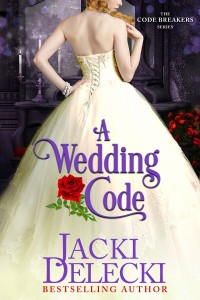 One of the reasons many readers enjoy historical fiction is that it provides a glimpse into the lives, relationships and traditions of different countries and eras. Weddings and marriage are, by far, one of the most fascinating topics to research.
Here are five interesting facts I discovered about weddings and matrimony during the Regency era while writing my upcoming release, A Wedding Code (The Code Breakers series book 5, releasing April 25, 2017).
For many centuries, marriage was not based on love, but as a strategic alliance between families for monetary, social or political gain. Marriages were often arranged when the bride and groom were still children.
Although the popularity of love matches began gaining popularity in 18th and 19th century England, demonstrating passion for one's spouse was considered déclassé.
Almack's, a London social club, became one of the most prominent "marriage marts" of Regency England. Debutantes, who once sought to be presented at the King's court, vied for vouchers from Almack's patronesses so they could be presented there instead.
Regency brides did not commission gowns exclusively for their wedding. Most gowns were re-worn. Although any color or pattern was acceptable, blue, white, silver and light-colored hues were most popular. Instead, many brides cherished their wedding shoes as treasured keepsakes.
Brides were given a wedding ring during the wedding ceremony, but men did not wear wedding rings.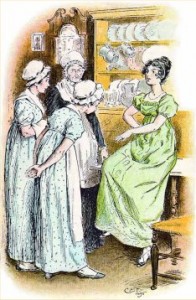 What is your favorite contemporary or Regency-era wedding tradition?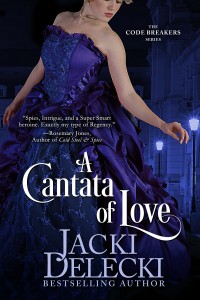 Here's a sample of the heart-pounding adventure, international intrigue and sizzling romance coming June 14, 2016, with the release of A Cantata of Love, book 4 in The Code Breakers series.
1803 ~ In the seaside town of Berck, France
Gabrielle De Valmont brushed back Lord Kendall's blond curls and applied the wet cloth to his burning brow. His long golden curls and eyelashes accentuated his bright red cheekbones. In their days of hard travel from Paris, the Earl's gunshot wound had festered into a nasty infection.
At this moment, he rested. For days, when the fever spiked, he thrashed about, calling out about sending a code book to a woman named "Henrietta."
Desperate to soothe him, Gabrielle discovered that he would calm with the French songs of her childhood.
She was exhausted from the strain of caring for the Earl and from the constant fear that they might be captured and forced to return to Paris.
They couldn't hide much longer without being discovered by Napoleon's or Fouche's henchmen. When the Earl's condition had worsened to the point he could no longer travel, Gabrielle had brought them to her former nanny's tiny village of Berck, south of Calais. They made their arrival into the village under cover of darkness to avoid alerting the citizens.
For eight long days and nights, she had cared for the feverish Earl. Their presence in the tiny town couldn't be kept secret much longer. They must leave Berck and France soon.
But how could they flee with the French soldiers on high alert, inspecting every boat crossing the English Channel?
Monsieur Denby, Lord Kendall's valet, had assured her that he had a plan to divert their attention.
Exhausted and despondent, she beseeched the Blessed Virgin for their safe escape and the Earl's recovery.
She also prayed that the Earl would forgive her and Mother Therese for their deception. She had to have believe that Lord Kendall would never abandon her to her terrible fate.
***
Pre-order A Cantata of Love exclusively from iBooks to be the first to read my new release.
A CANTATA OF LOVE
Napoleonic France is no place for an Englishman, especially Michael Harcourt, the Earl of Kendal, who is on a clandestine assignment for the Crown. Already injured and facing imminent discovery by Napoleon and Fouche's men, Michael finds his escape made even more perilous when he is charged with the safety of a young boy who must be spirited out of Paris.

Desperate to escape the terrible fate that awaits her if she remains in France, Lady Gabrielle De Valmont must disguise herself as a boy and rely on the cunning of a virtual stranger—an Englishman, no less—to smuggle her out of the country. When the Earl's injury becomes severely infected, rendering him gravely ill, Gabrielle realizes it is now up to her to save them both.
You can enjoy the rest of The Code Breakers series on audio, narrated by Pearl Hewitt. Click the cover to listen to an audio sample. Available at Audible.com, iTunes and Amazon.
Audiobook fans can now enjoy A CHRISTMAS CODE, Book 2 of the Code Breakers series. Narrated by Pearl Hewitt, this title joins the other two books in the series on audio.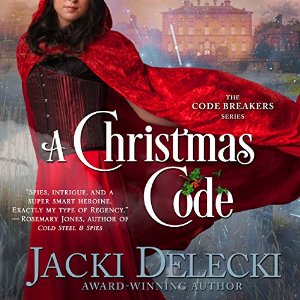 Enjoy an audio sample HERE.
Click on the book titles to purchase at Audible today!
If you would enjoy receiving a free download of this new audiobook release in exchange for an honest review, please contact my assistant Maria Connor at myauthorconcierge@gmail.com.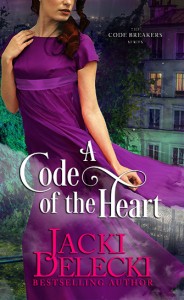 Please enjoy this excerpt from A CODE OF THE HEART, Book 3 in the Code Breakers series, which releases tomorrow. Don't miss the special $2.99 introductory price, good through Feb. 19.
Edworth's Christmas Ball
December, 1803
Amelia Bonnington braced herself as the crowd bumped and pushed, straining to get close to His Highness. The crème of society shoved and elbowed, politely of course, since one would never want to be accused of bad manners.
The Prince Regent stood on a small platform at the front of the ballroom, elaborately decorated for Christmas. Heavy bows of greenery and bells hung on red velvet throughout the room. Hundreds of beeswax candles burned. No expense had been spared for the house party celebrating His Royalty's visit.
Amelia had no desire to be part of the Prince's retinue, a ghastly group who were only interested in themselves and their own pleasure.
She sucked in the little air left in the room and pushed, politely, of course, toward the door. The crowd and the heat were unbearable. She never swooned, but with the strong smell of perfume and the hot pressing bodies, she felt tonight might be her first. A maelstrom of sensations and emotions enveloped her. The last days of upheaval must have had a greater effect on her than she had wanted to believe.
Her whole world had been turned upside down and twisted sideways at this house party. In the last two days, her friends had been poisoned and kidnapped, and she had been ensnared in the French villain's trap.
She needed to escape from this crowded room. She needed fresh air and open space. A gentleman used the chaos in crowded room to take liberties with her person. After spending years in congested ballrooms, she fully recognized the scoundrel's ploy to press against her. His heavy eyelids didn't conceal his roving eyes, focused down her décolletage. As his eyes remained fixated on her breasts, he grabbed her elbow pretending to help her when, in fact, he intended to pull her closer against his heavy, malodorous body.
A sick sensation started in her stomach and crawled to her throat. She pulled her arm away from his grasp, repulsive with sweat seeping through his gloves. "Sir, release me this instant."
She was about to dig her heel into the supposed gentleman's fat toe when suddenly a space opened around her and a smell of fresh air and lime soap surrounded her.
The perspiring man stared behind her. His slack mouth and the look of fear on his face were priceless.
She recognized Derrick Brinsley's scent and heat—the impossible, difficult, yet appealing man. His deep, dark voice flitted down her skin like a caress. "Miss Amelia, may I escort you away from this crowd?"
Relief and something much more potent tingled along her skin. She turned quickly and found herself pressed against the broad chest of the man she had been forced to conspire with to save her friend.
"I've never thought I'd be happy to see you." She refused to be like all the other women who'd be grateful to have his attention.
His lifted one eyebrow in a sardonic way that she always found irritating. He was too big, too handsome, and too confident that she'd find him irresistible. She'd never let him have the satisfaction that she did find him…almost irresistible.
A CODE OF THE HEART coming February12,  2015!
Here it is! The cover reveal for A CODE OF THE HEART, book 3 in the  Code Breakers Series. Another job well done from the wonderfully talented Kim Killion.
A CODE OF THE HEART, the story of Amelia Bonnington and Derrick Brinsley, is scheduled for release in February 2015.