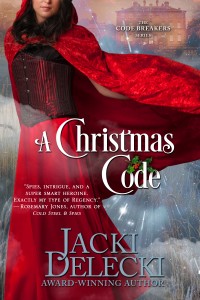 Amazon / Kindle
Amazon UK
Barnes&Noble / Nook
iBooks
Kobo
GooglePlay
Audible
Amazon Audiobooks
iTunes
Enjoy an audiobook sample HERE.
"What's not to enjoy about spies, an assassination plot, revenge and love." ~April A. Renn/ Amazon
"Delecki hits another one out of the park!" ~Kim H., Kimmy's Korner
Lady Gwyneth Beaumont has long awaited the opportunity to show Viscount James Ashworth that she is no longer the impetuous child who dogged his footsteps. Now a much sought-after debutante, she is determined to prove to the hard-headed rake that she is a grown woman and a worthy participant in both the spy game and the game of love. Ash, recently returned from three years undercover in France in His Majesty's service, wants nothing more than to complete his final mission and retire to his bucolic country estate. However, what seemed a simple assignment to protect the Prince Regent at a Christmas party turns into a maze of intrigue, desire, and treachery. Adding to the perilous secret operation is one problem Ash never anticipated: The appearance of the reckless, enticing Gwyneth, who has blossomed into a gorgeous woman and self-appointed spy. When a snooping Gwyneth uncovers a shocking secret, she puts herself in mortal danger. Can Ash protect Gwyneth and the Prince from French assailants and, at the same time, win the passionate lady's heart? Can Ash and Gwyneth both triumph as winners in the game of spies and love?

Save
Save
Save