Romance in Seattle
Category
Well, it's official. Now that Halloween is over, retailers and advertisers have launched their winter holiday promotional push. For the next 60 days, expect to be bombarded with red and green, silver and gold, Santa and elves, gilt and gift wrap.
There are many cliches associated with the holiday season. Like every other writer, however, I have been taught from Day One to avoid cliches. Fortunately that was easy to do with the upcoming box featuring my recent release, MARRIAGE UNDER FIRE, with more than four chapters of new and exclusive content.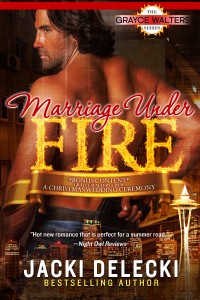 Criminal Christmas, a collection of 8 holiday suspense stories is now available for pre-order for just $0.99 and will be available November 9.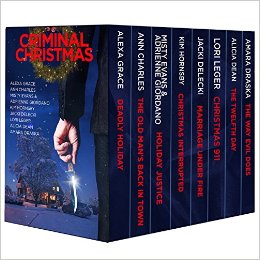 Amazon US | Amazon UK | BN | iBooks | Kobo | Smashwords
Order your copy of Criminal Christmas today for a break from the holiday cliches and chaos. You won't want to miss Maddy and Hunter's romantic holiday wedding, exclusively available with this box set. Merry Criminal Christmas to one and all!
Last weekend was the Emerald City Writers Conference and Passport to Romance Reader Appreciation Event. Audiobook narrator Pearl Hewitt shares a few highlights.
I had the opportunity to meet many readers and some very enthusiastic audiobook listeners at the Passport to Romance Reader Appreciation Event. It was a very successful evening of laughter, chatter and giveaways. Everyone seemed to have a great time.

The presentation on how to Successfully Create an Audiobook went very well although it was a little rushed toward the end because the volume of information is large and many questions were asked by interested authors who seriously want to move into the audiobook minefield. I was happy to help get the word out and encouraged authors to branch out into the audiobook world and take advantage of this extra income source.
Thanks, Pearl, for sharing your experience with my readers!
This weekend I'll be attending the Emerald City Writers' Conference. I'm looking forward to the event for several special reasons.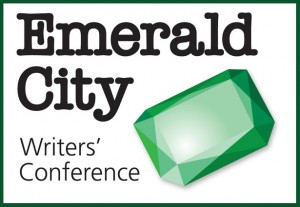 First and foremost, I will be presenting a workshop on How to Successfully Produce an Audio Book with Pearl Hewitt. For those who don't know, Pearl is the talented narrator who's brought two of my Code Breaker series book to life. She's currently working on a third, A CHRISTMAS CODE, which will be available in early November. This will be my first opportunity to meet Pearl in-person, and I'm looking forward to it!
Second, I'll be participating in the Passport to Romance Reader Appreciation Event on Saturday, October 17. Readers are invited to this free event, which provides an opportunity to celebrate romantic fiction, meet their favorite authors and discover new authors.

Last but not least, writers' conferences offer authors a chance to network with industry professionals, connect with their peers, learn what's new and exciting in publishing and hone their craft through workshops and master classes.
After spending so many days alone in my writing cave, I'm excited to spend the weekend with my favorite people – writers and readers! For more information, visit the Greater Seattle RWA website.
Join Maddy and Hunter for a very special holiday wedding!
Marriage Under Fire, featuring an exclusive wedding scene never before released, is part of Criminal Christmas, a collection of 8 holiday suspense stories. The box set is now available for pre-order for just $0.99 and be the first to read these thrilling romantic suspense stories on November 9.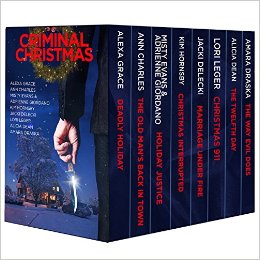 Amazon US | Amazon UK | BN | iBooks | Kobo | Smashwords
Share in the anticipation as Grayce, Davis, Hollie, James and the entire Grayce Walters crew plan a ceremony overflowing with all the love, romance and fellowship of the season.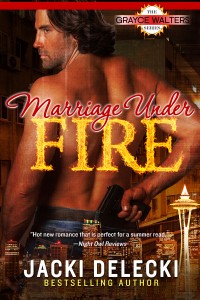 Christmas isn't all Peace on Earth this Holiday Season in 8 Outstanding Suspense Stories of Murderers, Stalkers, Terrorists, Thieves, and Kidnappers. Criminal Christmas puts the Danger in the season of Mistletoe, Christmas Trees & Goodwill. Snuggle up by the fire with our books and enjoy Christmas like never before. This fabulous set is comprised of 6 Novellas (including never before published!), 1 Short Story and 1 Full Novel!
Deadly Holiday – Novella
It's four days before Christmas and the characters you grew to love in The Deadly Series are struggling with life-threatening problems. When a five-year old boy testifies against his father, then disappears without a trace, the town struggles to find him. But an impending blizzard threatens to halts the search just before Christmas.
Deadly Holiday is an action-packed thriller you don't want to miss.
The Old Man's Back in Town – Short Story
A sizzling, suspenseful SHORT STORY wrapped in a puzzling mystery that will leave you hungry for more.
**It's "Groundhog Day" meets the modern day Old West!**
Holiday Justice – Novella
A Justice Team Holiday Novella!
When his Justice Team partners, Mitch Monroe and Caroline Foster, discover a Santa sneaking around behind the restaurant, Grey and Mitch uncover a theft ring that's leaving kids without toys and families without a reason to celebrate.
Christmas Interrupted – Novella
Christmas in snowy Carnation, Washington seems like the idyllic get away until Jamey Dunn has a prophetic dream of his father's house burning to the ground on Christmas Eve. Jamey and his wife Tina race to Carnation to prevent the tragedy that will take Pops' life and discovers something is strange about the new neighbors.
Marriage Under Fire – Novella
Marine veteran Maddy Jeffers never expected her most demanding and daunting mission would come off the battlefield. Ordered to infiltrate a Seattle terrorist cell, Maddy must pose as a loving wife to Major Hunter Hines. The undercover role begins to feel all too real when Maddy falls hard for the rugged, macho Marine.
The Twelfth Day – Novella
Years ago, Sabrina Spencer was the lone survivor of a serial killer's attack on her family, her testimony putting the killer behind bars. When she begins receiving daily packages containing bizarre gifts related to the Twelve Days of Christmas, Sabrina suspects her new love is behind the twisted countdown to the twelfth day.
Christmas 911 – Novella
When mother-to-be Corrine Landry stops off to purchase a gift for her niece on Christmas Eve, she finds herself in the middle of a crisis situation. Luke Oliver is about to end his final twelve-hour shift as a 911 dispatcher. After answering a desperate plea from a frantic pregnant woman, he suspects this particular call could change his life–maybe forever.
The Way Evil Does – Novel
When novelist Rebecca Reis interviews convicted serial killer, Thomas Eisenbrey in the Washington State Penitentiary she finds herself having strange feelings for the psychopath. Nicknamed the Hunter, Eisenbrey is crafty, aloof, and has somehow wheedled his way into her mind. When he escapes, Rebecca is terrified–who will he hunt next?
I frequently feature actual Seattle landmarks in my Grayce Walters series, partly because I love my home city and partly to create a sense of realism for readers who are familiar with this region. Part of the storyline for Marriage Under Fire, the September release in my contemporary romantic suspense series, was inspired by Seattle's local refugee and immigrant community.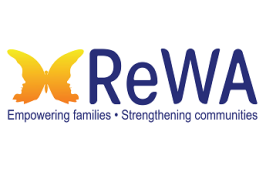 One of my primary research resources for this was the Refugee Women's Alliance (ReWA), an organization that provides assistance and support to refugee and immigrant women and their families. ReWA has been active in Seattle's multicultural community for more than 30 years and their work is life changing. Here are some of their accomplishments and compelling facts:
Services are available in more than 60 languages/dialects
More than 30 percent of King County residents are foreign-born, based on the 2010 Census
ReWA helps refugees learn English, find housing and jobs, and gain U.S. citizenship
Services from ReWA also include domestic violence aid, youth & senior programs, and meals
Yet another reason I love being a romantic suspense author is being able to showcase incredible organizations such as this that make a difference in the community.