Women Sleuth Mysteries Giveaway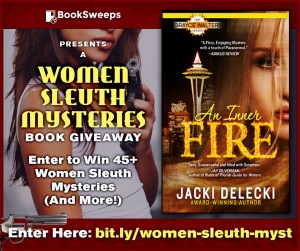 Have you read my novel, An Inner Fire? For a limited time, you can enter to win the book plus more than 45 fantastic Women Sleuth Mysteries from an amazing collection of authors, PLUS A KINDLE FIRE!
Enter the contest by clicking here: bit.ly/women-sleuth-myst
Be sure to check out the books from these award-winning and bestselling mystery authors.
Alana Albertson
Angie Fox
Ann Charles
Barbra Annino
Christine Kling
CJ Lyons
Connie Shelton
Dale Mayer
Danielle Lenee Davis
Deborah Brown
Dee Ernst
Denise Grover Swank
Dianne Harman
Emily Kimelman
Fiona Davis
Heather Sunseri
Jacki Delecki
Joanne Pence
John Sullins
Josie Brown
Joy Ohagwu
K.J. Emrick
Karen McCullough
Kathi Daley
Kelle Z Riley
Kelly Miller
Kristi Belcamino
Libby Fischer Hellmann
Linda Fulkerson
Lindsay Emory
Lynn Emery
M. Louisa Locke
Maggi Andersen
Mara Jacobs
Marcy McKay
Melissa Storm
P.B. Ryan
Paisley Ray
Pamela Fagan Hutchins
Patricia Rice
Sara Rosett
Seeley James
Sibella Giorello
Suzanne Jenkins
T.K. Wilde
Toby Neal
Vered Ehsani
Vicki Hinze
Save