What will be on your Thanksgiving table?
Americans celebrate Thanksgiving on the fourth Thursday of November, which means you have exactly one week to finalize your menu, design a tablescape, confirm RVSPs and decide who will sit where to minimize family squabbles. Actually, that is Martha Stewart's Thanksgiving To Do list. Mine is half as complicated, and I've even been tempted to join those individuals who dine out on Thanksgiving or have the meal catered.
Whatever you do or how ever you celebrate Turkey Day, there's no arguing the joys of splurging on holiday favorites. Some families have secret recipes handed down from generation to generation while others serve up simple but much-loved dishes like the classic green bean casserole made with Campbell's Condensed Cream of Mushroom Soup and French's French Fried Onions.
This year I'm breaking with tradition and making a Tangerine Curd Tart for dessert. No, I'm not going rogue just for the heck of it. Thanks to the bounty of the Meyer lemon tree I bought last February at the Northwest Flower & Garden Show, I have beautiful fruit that needs to be harvested and used soon.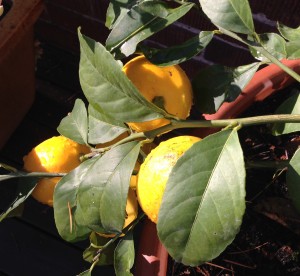 If you'd like to serve something different to your family and friends, here is the Food & Wine recipe I'm using.
Tart shell
    1 1/2 cups all-purpose flour
1/2 teaspoon granulated sugar
1/2 teaspoon kosher salt
1 stick unsalted butter, cubed and chilled
1/4 cup ice water
Tangerine curd
    2 teaspoon finely grated tangerine zest plus 1 cup freshly squeezed tangerine juice (not bottled)
5 tablespoons fresh lemon juice
1 cup granulated sugar
12 large egg yolks
Pinch of kosher salt
1 1/2 sticks unsalted butter, cubed and at room temperature
Whipped cream
    1 cup heavy cream
2 teaspoons confectioners' sugar
Make the tart shell. In a small bowl, whisk the flour, sugar and salt. Add the butter and, using your fingertips, blend it in until pea-size pieces remain. Stir in the ice water until the dough comes together; add another tablespoon if the dough seems too dry. Turn the dough out onto a lightly floured surface and pat into a 1-inch-thick disk. Wrap in plastic; refrigerate for 1 hour.
On a lightly floured work surface, roll out the dough to an 8-by-18-inch rectangle, about 1/8 inch thick. Fit the dough into 13-by-4-inch fluted tart pan with a removable bottom. Trim the overhang. Cover with plastic wrap and freeze for 30 minutes.
Preheat the oven to 400°. Line the tart shell with parchment paper and fill with pie weights. Bake for 40 minutes, until set. Remove the paper and pie weights and bake for 10 minutes, until cooked through. Transfer to a rack and let cool completely.
Make the tangerine curd. In a medium saucepan, whisk the tangerine zest with the citrus juices, sugar, egg yolks and salt. Cook over moderately low heat, stirring often with a spatula, until the curd is very thick but pourable, about 30 minutes. Strain through a fine sieve into a medium bowl and whisk in the butter. Scrape the curd into the tart shell and press a sheet of plastic wrap directly onto the surface. Refrigerate until set and chilled, 3 hours.
Make the whipped cream. In a medium bowl, beat the cream with the confectioners' sugar until medium peaks form. Dollop on top of the tart and serve.
For the Thanksgiving purists around my table, I'll also be serving pumpkin pie.
What is your favorite Thanksgiving Day classic food item ? Does your family have any non-traditional dishes, without which Turkey Day wouldn't be the same?
Whatever is on your table next Thursday, I hope it is seasoned with love, friendship, good health and happiness.