Tis the Season in Seattle
Every city has its unique holiday offerings, but Seattle's holiday scene shines like Clark Griswold's house in the movie National Lampoon's Christmas Vacation. If you aren't familiar with Seattle's traditional celebrations, let me highlight a few of my favorites.
"Hop on a Holiday Duck Tour for a tradition that's sure to put even a grumpy Scrooge into the holiday spirit! You'll see the holiday sights and lights, hear about the holiday happenings and sing-a-long with off-the-wall holiday carols! Our Ride the Ducks Elves work all year to find holiday songs and jokes that deck the multi-denominational halls, so even if you're just celebrating the fact that your pants still fit, this holiday experience is one you won't want to miss! You'll tour Seattle through the hustle and bustle of the downtown shopping district, Belltown and the Seattle waterfront, then head to Pioneer Square, where the trees don't have lights – they're wearing their favorite holiday sweaters!"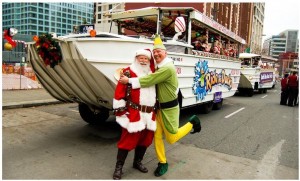 Festival of Trees
"Start the holiday season with this time-honored tradition (now in its 37th year!). Enjoy viewing this year's trees and reading the inspiring stories of Seattle Children's patients. The Festival of Trees raises funds for uncompensated care, supports research toward new treatments and cures for diseases, and enables Seattle Children's Hospital to provide the highest quality, family-oriented care."
Magic in the Market
"Celebrate the holiday season at Magic in the Market! Meet and take photos with Santa. Decorate gingerbread cookies with your family in the Market Atrium Kitchen. Get a belly full of laughs from performances by the Figgy Pudding Caroling Teams, right under the Public Market Center clock and sign. Enjoy Tiny's Organic apple cider, indi chocolate's hot chocolate and MarketSpice tea while you shop for locally made gifts."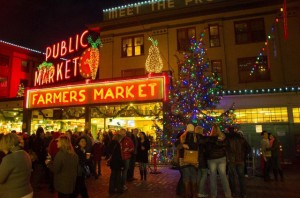 What are some of the local holiday attractions and events in your city?