summer vacation
Tag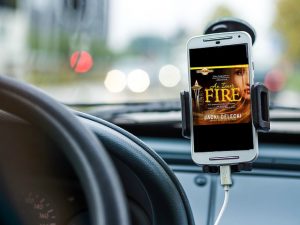 A friend of mine was moving from Virginia to Florida – a 13-hour trip in the minivan with two toddlers, a cat and a dog. She had originally planned to make the trip in two days, but ended up driving straight through. Why? Because she couldn't turn off the Harry Potter audiobook she was listening to.
Audiobooks are a great way to make the most of long hours in the car. You can listen on your own device or plug into the car's sound system so everyone can enjoy the story.  Add audiobooks to your next road trip with these easy tips:
Download the Audible or iTunes app to your cell phone or tablet before your trip and make sure it's active.
Test drive your audiobook app and device in the car. Make sure you have necessary cords and connectors.
Select a few titles before you head out. Download them so you don't need Wi-Fi to stream them.
Listen to the audio sample before selecting a new audiobook. Make sure you'll enjoy the narrator's performance to avoid being disappointed.
Take a group vote to decide on audiobooks everyone in the family will enjoy.
Choose books that are funny, entertaining and engaging.
Ask friends to recommend that favorite audiobook narrators and audiobooks.
For a chance to win one of my audiobooks, comment with your favorite audiobook or narrator.
Summer has officially arrived and that means travel, getaways, lazy days by the pool or maybe just kicking back in the air conditioned comfort of your home. Whether traveling by plane, train or automobile, doing a vacation or stay-cation, there are plenty of opportunities to enjoy a good book.
After you enjoy these fun facts about summer, visit me on Facebook and comment for a chance to win a digital copy of The Code Breakers Regency Romantic Suspense Series boxed set. The winner will be announced Friday.
In the U.S., over 650 million long-distance summer trips are made during summer.
The top 5 most popular summer vacations are 1) beach/ocean (45%), 2) a famous city (42%), 3) national parks (21%), 4) a lake (17%), and 5) a resort (14%).
According to the U.S Travel Association, 1.7 billion U.S. residents logged a summer vacation in 2014, adding to the $2.1 trillion of economic output generated by America's tourism industry.
One in nine U.S jobs depend on travel and tourism, making it the seventh largest private employment sector.
$644.9 billion was spent on leisure travel in 2014.