romantic suspense
Tag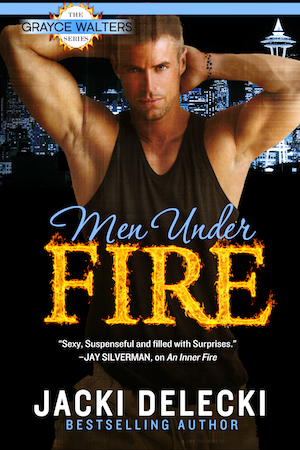 Dr. Walters looked up from her note taking. "I'd like to treat Talley once a week for the next three months. You live in Auburn. Will it be a problem to drive into Seattle?"
"Not a problem, ma'am. I'd do anything for this dog."
She leaned across her desk. "Do you swim, Sergeant?"
"Yes, ma'am." He didn't get what swimming had to do with acupuncture.
"I'd like you and Talley to start swimming in a lake or deep river. It's important you do it together."
"Lake Young is close by our family farm. Talley and I can swim there."
"Water will soothe Talley's ratcheted up nervous system."
Why did he feel as if the doctor wasn't talking just about Talley?
"Don't do any training around the swimming. Talley needs a real break from her work. Her senses, especially her focus and her nose, are working overtime. She'll have a break in the water."
He nodded. "It will be great to swim after our morning runs."
"Sounds like we've got a plan. Let's see how the swimming works." Dr. Walters stood from her desk and walked toward the door. "I can hear that my assistant is back. She'll make your appointment for next week."
Talley woke up with the doctor's movements. With her front paws planted forward, the usually hyper dog stretched her spine and then slowly hoisted herself to follow Dr. Walters. He couldn't explain exactly what had happened, but like Talley, he felt a deep sense of relaxation. For the first time since he had arrived stateside, he could breathe calmly and catch glimpses of the contented man before the war. He and a tranquil Talley followed the doctor to the outer office.
Dr. Walters stopped suddenly in the doorway. A young, curvaceous woman was balanced on a stool, reaching into cupboards, as she sang the painful lyrics from Nirvana's song "Sliver."
When she stretched her entire body forward, her short, black skirt inched higher, giving him an incredible view of her sweet, rounded backside. He swore under his breath at the tempting sight. She wore fishnet tights and thigh-high boots that were right out of every red-blooded male's fantasy.
His whole body tightened, not in danger but in hunger. Lust and need hummed through him, an invigorating feeling that he hadn't experienced in a very long time.
If you are new to my contemporary romantic suspense series, here's an excerpt from An Inner Fire, Grayce Walters Book 1.
About the Book
Grayce Walters, animal acupuncturist, harbors a secret. She hides her intuitive gifts from the world until she becomes embroiled in arson on Seattle's waterfront.
As a key crime witness, Grayce must convince the attractive, logical, by-the-numbers fire investigator, Ewan Davis,that the fire she witnessed is part of a larger criminal conspiracy. Grayce embarks upon a mission to gather proof of the dangerous threat. She enlists the help of her cross-dressing best friend, her street-wise assistant, and Davis' poodle, to conduct her own investigation.
As her feelings for Davis shift between white hot passion and cold fear, Grayce must risk exposing her secrets to save Davis' life. Davis must accept things, he can neither see, nor understand to solve the mystery and finally find the love he has stopped believing in.
With nudges from the protective poodle, Grayce and Davis confront shocking betrayal and international crime on the rain soaked streets of Seattle.
Excerpt – Chapter One
Grayce Walters' left hand twitched. Her universe spun on an altered axis. Her instincts swirled. Her intuition flared.
Earlier today, a cranky feline had gouged her, a sneaky dog had nipped her, and now, late for dinner with friends, the parking gods were messing with her. Something was coming. Something strange.
Her headlights probed the mist, dissolving in the murk of Puget Sound fog. Her intuition acted like an inner GPS, directing her to the far side of Seattle's Fisherman's Terminal. The beams shone on a yellow heap between stacks of crab traps. A dog lay on its side, barely visible in the shadow of a fishing shed.
Stepping out of her car, she inhaled the musky smell of salt water. A horn blared from the Ballard Bridge. Grayce jumped at the sudden sound. She grabbed a flashlight and moved into the mist toward the large canine.
She knelt on the damp cement next to the golden retriever. Relieved to observe the dog's shallow respirations, she released a slow breath Baxter was written in bold script on the dog's red leather collar.
She gently ran her hand along Baxter's inert body. Her cold fingers probed the crown of his head, locating an egg-sized lump on the back of his skull.
"Your head hurting, Baxter?"
The large retriever wagged his tail ever so slightly and then stilled.
Grayce scanned the cluster of corrugated fishing sheds. A deep foreboding flooded her senses. "Baxter, I need to get us away from here."
She searched the waterfront, looking for the perpetrator of Baxter's injury. The overhead lights on the docks cast an eerie halo on the boats bobbing in the black water.
Screeching hinges broke the silence. The sound raked her skin like dogs' nails skittering across the metal exam tables in vet school. Her nervous system ratcheted into high alert.
The sound of a door opening in the next row of sheds echoed in the night's silence. Then she heard footsteps on the cement, moving toward the water. The sound of the footsteps grew distant, swallowed in the darkness.
Under the dock lights she spotted him, a beefy man with a satchel slung over his shoulder. Wearing the slicker and boots of a commercial fisherman, he moved with an energized self-assurance toward the boats. Rage and elation radiated from him. Grayce was sucked into his dark violent energy. She fought the temptation to absorb his malevolence.
The footsteps stopped. He looked back in her direction. A raw chill penetrated Grayce's body. She bent forward to shield the dog and tightened her hold on the flashlight, ready to protect Baxter.
Moving in and out of the shadows on the wharf, the overhead beams caught the top of his head. His hair shone a fiery red. He walked into the fog.
Baxter whined, breaking the tense silence. She ran her hands along the damp dog searching for further injuries. "You're going to be all right, big guy."
Nerves stretched taut, she twisted to look for the man. She studied the entire area searching for him. Every sound boomed in her ears.
She fumbled in her jeans pocket for her phone, then hesitated. Grayce hit favorites for James, her best friend.
Damn! Voicemail.
Peeling off her coat, she covered the dog.
"Baxter!" A woman's voice, then a whistle.
The dog's ears shot up as he bolted upright. He gave a high-pitched yelp, shook several times, and loped in the direction of his owner's voice. Twenty feet away, a middle aged woman stood next to her Volvo station wagon with the hatch-back door open. Baxter jumped effortlessly into the car. The dog's large head was silhouetted in the rear window as they sped away.
She bent to pick up her rain jacket when a massive blast shook the wharf causing the cement to sway beneath her. The harsh sound reverberated in her ears as the tremor traveled through her legs.
She whirled around, trying to locate the source of the explosion. Shock waves continued to pulsate throughout her body.
She heard the fire before she saw it, a slow hiss followed by a roar. Twenty-foot-high flames shot out of a shed less than a few car lengths away. Heat blazed across her face, hot enough to singe her eyebrows and eyelashes.
Primitive fear imploded in her chest. She ran, ran as if the flames chased her.
The fire's heat penetrated her sweater to her skin. She sprinted, her feet and heart pounding.
When she reached the far side of the wharf and the far side of the inferno, she dialed 911.
The wail of sirens filled the night's silence.
In the frenzy of noise and flashing lights, she spotted the red-haired man lurking in the shadows. He was crouched, half hidden by an industrial dumpster. As if he sensed her watching him, he turned and vanished into the darkness.
For more information and to keep reading, click HERE.
Save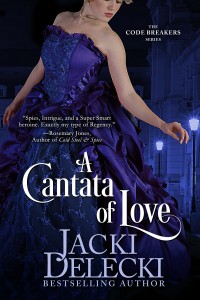 Here's a sample of the heart-pounding adventure, international intrigue and sizzling romance coming June 14, 2016, with the release of A Cantata of Love, book 4 in The Code Breakers series.
1803 ~ In the seaside town of Berck, France
Gabrielle De Valmont brushed back Lord Kendall's blond curls and applied the wet cloth to his burning brow. His long golden curls and eyelashes accentuated his bright red cheekbones. In their days of hard travel from Paris, the Earl's gunshot wound had festered into a nasty infection.
At this moment, he rested. For days, when the fever spiked, he thrashed about, calling out about sending a code book to a woman named "Henrietta."
Desperate to soothe him, Gabrielle discovered that he would calm with the French songs of her childhood.
She was exhausted from the strain of caring for the Earl and from the constant fear that they might be captured and forced to return to Paris.
They couldn't hide much longer without being discovered by Napoleon's or Fouche's henchmen. When the Earl's condition had worsened to the point he could no longer travel, Gabrielle had brought them to her former nanny's tiny village of Berck, south of Calais. They made their arrival into the village under cover of darkness to avoid alerting the citizens.
For eight long days and nights, she had cared for the feverish Earl. Their presence in the tiny town couldn't be kept secret much longer. They must leave Berck and France soon.
But how could they flee with the French soldiers on high alert, inspecting every boat crossing the English Channel?
Monsieur Denby, Lord Kendall's valet, had assured her that he had a plan to divert their attention.
Exhausted and despondent, she beseeched the Blessed Virgin for their safe escape and the Earl's recovery.
She also prayed that the Earl would forgive her and Mother Therese for their deception. She had to have believe that Lord Kendall would never abandon her to her terrible fate.
***
Pre-order A Cantata of Love exclusively from iBooks to be the first to read my new release.
A CANTATA OF LOVE
Napoleonic France is no place for an Englishman, especially Michael Harcourt, the Earl of Kendal, who is on a clandestine assignment for the Crown. Already injured and facing imminent discovery by Napoleon and Fouche's men, Michael finds his escape made even more perilous when he is charged with the safety of a young boy who must be spirited out of Paris.

Desperate to escape the terrible fate that awaits her if she remains in France, Lady Gabrielle De Valmont must disguise herself as a boy and rely on the cunning of a virtual stranger—an Englishman, no less—to smuggle her out of the country. When the Earl's injury becomes severely infected, rendering him gravely ill, Gabrielle realizes it is now up to her to save them both.
You can enjoy the rest of The Code Breakers series on audio, narrated by Pearl Hewitt. Click the cover to listen to an audio sample. Available at Audible.com, iTunes and Amazon.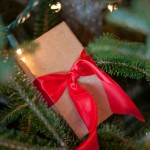 After much anticipation and preparation…the holidays are over. Already? I was just starting to enjoy myself! I don't know about you, but there's a bit of let down when the rolls of red-and-green wrapping paper are tucked back into the closet, the last few sugar cookies have gone stale and the Christmas tree–with its multicolored lights and glittery strands of tinsel–no longer brightens the grey of winter.
Have you ever come across one last gift? Something tucked far back under the tree that was overlooked? No matter what's in the package, the unexpected discovery makes this last present extras special. Well, I have one last gift for my readers!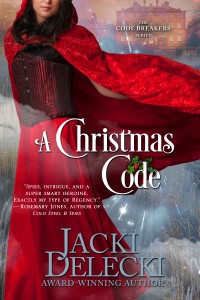 A Christmas Code, book 2 in my Regency romantic suspense story, is FREE for a limited time at most online retailers. (Amazon doesn't have a free pricing option so if you read on a Kindle, contact my assistant at mariaconnor@msn.com to request a mobi version).
Download A Christmas Code today and enjoy the holidays just a bit longer!
BN Nook | iBooks | Kobo | Google Play
For those of you haven't read the holiday edition of Marriage Under Fire, which features Maddy and Hunter's wedding, today's blog includes the bonus content. Enjoy this short read with a mug of hot cocoa or in between wrapping gifts!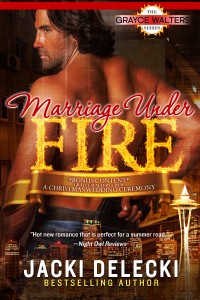 Hunter, Colonel Dawson, his commanding officer, and his best friend Drew stood in Aunt Aideen's library waiting to be called for the wedding ceremony. Through the pane-glass windows Hunter could see could see falling snow beginning to blanket the Queen Anne neighborhood. Maddy must be ecstatic that her wish for a snowy Christmas Eve wedding had come true.
"Sir, it means a great deal to Maddy and me that you were willing to come on Christmas Eve to perform this service," Hunter said.
"I've got a special spot for Maddy. She is the daughter we never had. My wife would've loved to have had a daughter. Three sons, three Marines."
"I hope you won't have any trouble getting to the airport, sir."
"I'm sorry I can't stay for the celebration. But I know how Seattle closes down when it snows."
Hunter tried to keep the conversation going with the Colonel, but all he could think about was Maddy. Was she excited, nervous? He had so much wanted to share Maddy's day. She told him about her conversation with Dr. Walters, and how she had realized how much she would miss her parents on her wedding day.
He didn't want her to feel alone. It had been only twenty-four hours since he kissed her goodnight before she spent her last night as a single woman with Angie. After today, he would never spend another night without her.
He could hear Aunt Aideen's commanding voice directing the guests to their seats in the living room. James had decorated the entire house with flowers. The chairs lining the living room had white ribbons and bouquets attached to each aisle seat. White candles burned throughout the house, and the flowery fragrances blended with the smell of pine from the giant Christmas tree standing in the front window.
Two bars were set up on each side of the library, where the twenty-five guests would gather after the ceremony. While the guests had drinks and appetizers, the staff would remove the chairs from the living room and set up tables for dinner. Everything had been orchestrated as flawlessly as a well-organized military operation by James and Aunt Aideen.
Hunter checked his watch again. He didn't want to admit it, but he had the same nervous tension building in his body that he experienced before a dangerous operation, in spite of the fact that this wasn't an assignment and there was no threat. This was the beginning of his mission to protect and care for Maddy for the rest of his life.
James entered the library in a black tuxedo with a white rose on his lapel. The debonair man looked like he had just stepped out of a James Bond movie. "You're one lucky man. Maddy is more gorgeous than I'd anticipated. Maddy and Angie are both spectacular women, so I have to admit they made my job easy."
Hunter had started to resent James and all the time Maddy had spent planning the wedding with him. But seeing how happy she was, he couldn't really be upset. And it was obvious that James cared for Maddy.
"Is Maddy okay?"
"She's more than okay. She is radiant and excited and pleased as can be that it snowed."
It didn't sound like Maddy was having bridal jitters. He might be more nervous than his bride.
"Colonel, I've arranged for a car service to take you to the airport," James said.
"Thank you. I'm sorry I can't stay, but I can't miss Christmas Eve with my grandkids."
James stiffened and looked at Drew. "May I have a private word with you?"
Drew, in his Special Forces formal dress uniform, was leaning against the wall next to the window. Hunter and the Colonel wore their Marine dress uniforms, as did all his buddies. The only Marines not in uniform were Maddy and Angie.
Drew laughed. "No need. I truly can handle the ring business."
James's dark eyes narrowed. "I'm not worried about the ring. It will only take a minute."
Drew shrugged his shoulders. "Sure."
James gave a slight bow of his head. "Gentleman, excuse us." He looked at his watch. "Only seven minutes before you take your places."
James walked away with Drew following.
Colonel looked at Hunter. "Drew's in trouble again. And why do I think it's about a woman?"
Hunter watched the two men standing outside the door talking. James was definitely incensed about something. His face was red, and he was poking his finger into Drew's chest. Whatever had James hot under the collar, he didn't care about the consequences of provoking Drew—or he had a death wish.
If Drew had offended one of Maddy's friends last night at the rehearsal dinner, Hunter was going to kick his ass—after the wedding, of course. Except Drew was a smooth player and wouldn't push any boundaries that a woman didn't want pushed.
The ultimate alpha, Drew—who outweighed James by fifty pounds—stepped back and nodded. The Colonel winked at Hunter, amused by Drew's submissive response.
James looked again at his watch, then stepped back into the library. "Are you ready to take your places? Colonel, you will go out first. Is there anything you need?"
"Nothing. If you or Aunt Aideen want to join the Marines, I'm always in need of good sergeants."
James rubbed his chin, pretending to contemplate the possibility. "I would get so tired of wearing the same uniform over and over again." And then the ballsy man winked at the Colonel.
The Colonel responded with a loud guffaw.
James looked directly at Hunter. "Give the Colonel and Aunt Aideen a few minutes, and then come out." Hunter felt his heart kick against his chest. He was finally going to make Maddy his wife.
The Colonel slapped him on the back. "Never seen that look before, Hunter. Pure terror from the man who was willing to take on the Taliban singlehandedly." The Colonel rubbed his hands together. "This a great day for my little Maddy. Never officiated a wedding where both the bride and groom were Marines."
Aunt Aideen, in a billowing emerald green dress, marched into the room. "It's our time, Colonel. Let me escort you to your spot."
The Colonel offered Aunt Aideen his arm. "Let me escort you, my lady."
Aunt Aideen fanned her face. "I always did have a soft spot for a man in uniform."
Drew waited at the doorway while the Colonel and Aunt Aideen exited. He looked at Hunter. "Are you ready?"
Hunter shook his head. "We're supposed to give them a few minutes. Just enough time for you to explain what that little side conversation with James was about."
"Nothing to concern you on your wedding day," Drew said laconically.
"What did you do to get James riled up?"
"I think the wedding planning has gotten to his nerves."
Hunter grabbed his arm. "Spill it."
"It really isn't anything. Your sister didn't like me joking with some of the guys about getting hitched."
"That's it?"
"She got all fiery about defending you."
"That doesn't sound like Angie. She's really easygoing."
Drew stopped. "No she's not. She's…"
Hunter would have to finish this conversation later. He needn't worry about his sister, she could take care of herself. Besides, it was time to marry Maddy.
"Let's go." Hunter's heart raced, and his palms were sweaty. He looked straight ahead as he took his spot next to the Colonel in the packed living room. Drew followed and positioned himself next to Hunter.
Everything happened in a blur. The Colonel nodding to him, Angie coming down the aisle, stunning all in red. Hunter didn't really know much about music, but Angie moved gracefully with the music despite her impressively high heels.
And instead of turning to her place, she walked straight to Hunter and hugged him tightly. She whispered, "I'm so glad you came to Seattle." Tears were in her eyes as she stared into his. Eyes that looked just like his and his father's.
If he hadn't come to find his missing sister, he'd never have met Maddy. He hugged Angie so tight that he felt her breath tighten. "Me, too."
Angie stepped into her spot across from him. And they all waited until the church music changed to "Love is All Around." Everyone in the room stood and faced the foyer.
And then Maddy emerged. She was magnificent in a white fluffy gown, her blond curls bobbing. From across the room, he could see her blue eyes focused on him. His heart swelled with possessiveness and love.
James held her arm as they started toward him. The song matched the feeling in the room. Love was all around because of Maddy. She was love incarnate. Her eyes sparkled like the snowy night. She took her time coming down the aisle, smiling first at her VA group, then at Dr.Walters and her parents, and finally at Aunt Aideen. He understood. Everyone was under her spell. He hadn't been to many weddings and didn't know how brides were supposed to act, but Maddy's genuine joy enveloped everyone.
James had tears in his eyes when he presented her to Hunter. He felt a primitive satisfaction when James placed Maddy's hand onto Hunter's. "Take good care of my princess." James's voice broke. He turned and sat next to Aunt Aideen in the front row, dabbing at his eyes with a red handkerchief.
Hunter took Maddy's arm, pulling her next to his side. She never took her eyes away from his face. James was right. Maddy didn't look like the tough Marine. She was a snow angel or a princess, a feminine love goddess, and now she belonged to him.
He didn't care that he was supposed to wait to say it. He didn't care what anyone thought. "I love you, Maddy, now and forever."
Maddy's blue eyes softened. "Now and forever, Hunter."
This special holiday edition of Marriage Under Fire is available for a limited time.