romantic mystery
Tag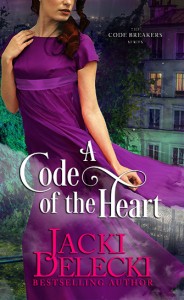 Please enjoy this excerpt from A CODE OF THE HEART, Book 3 in the Code Breakers series, which releases tomorrow. Don't miss the special $2.99 introductory price, good through Feb. 19.
Edworth's Christmas Ball
December, 1803
Amelia Bonnington braced herself as the crowd bumped and pushed, straining to get close to His Highness. The crème of society shoved and elbowed, politely of course, since one would never want to be accused of bad manners.
The Prince Regent stood on a small platform at the front of the ballroom, elaborately decorated for Christmas. Heavy bows of greenery and bells hung on red velvet throughout the room. Hundreds of beeswax candles burned. No expense had been spared for the house party celebrating His Royalty's visit.
Amelia had no desire to be part of the Prince's retinue, a ghastly group who were only interested in themselves and their own pleasure.
She sucked in the little air left in the room and pushed, politely, of course, toward the door. The crowd and the heat were unbearable. She never swooned, but with the strong smell of perfume and the hot pressing bodies, she felt tonight might be her first. A maelstrom of sensations and emotions enveloped her. The last days of upheaval must have had a greater effect on her than she had wanted to believe.
Her whole world had been turned upside down and twisted sideways at this house party. In the last two days, her friends had been poisoned and kidnapped, and she had been ensnared in the French villain's trap.
She needed to escape from this crowded room. She needed fresh air and open space. A gentleman used the chaos in crowded room to take liberties with her person. After spending years in congested ballrooms, she fully recognized the scoundrel's ploy to press against her. His heavy eyelids didn't conceal his roving eyes, focused down her décolletage. As his eyes remained fixated on her breasts, he grabbed her elbow pretending to help her when, in fact, he intended to pull her closer against his heavy, malodorous body.
A sick sensation started in her stomach and crawled to her throat. She pulled her arm away from his grasp, repulsive with sweat seeping through his gloves. "Sir, release me this instant."
She was about to dig her heel into the supposed gentleman's fat toe when suddenly a space opened around her and a smell of fresh air and lime soap surrounded her.
The perspiring man stared behind her. His slack mouth and the look of fear on his face were priceless.
She recognized Derrick Brinsley's scent and heat—the impossible, difficult, yet appealing man. His deep, dark voice flitted down her skin like a caress. "Miss Amelia, may I escort you away from this crowd?"
Relief and something much more potent tingled along her skin. She turned quickly and found herself pressed against the broad chest of the man she had been forced to conspire with to save her friend.
"I've never thought I'd be happy to see you." She refused to be like all the other women who'd be grateful to have his attention.
His lifted one eyebrow in a sardonic way that she always found irritating. He was too big, too handsome, and too confident that she'd find him irresistible. She'd never let him have the satisfaction that she did find him…almost irresistible.
A CODE OF THE HEART coming February12,  2015!
One thing my character Grayce Walters and I have in common is a love of high heels–casual, dressy, classic, trendy. It doesn't matter!
You can get in on the fun this month by posting a picture of your favorite high heels on my Facebook page, which will qualify you for a chance to win a $50 DSW gift card. Enter as often as you wish! The contest will close June 30th, with one winner chosen and announced on July 1st.
I can't wait to see the spectacular selection of high heels this month, but you know what that means…I'm sure to need room in my own closet for a few new pairs!