new release
Tag
It's release day for A Cantata of Love, book 4 in The Code Breakers series. I'm celebrating with a fun giveaway. There are lots of ways to enter. One lucky winner will receive an e-gift card from Gyft.com, where you can shop from more than 200 retailers.
Add heart-pounding adventure, international intrigue, and sizzling romance to your summer reading list with A Cantata of Love.
Napoleonic France is no place for an Englishman, especially Michael Harcourt, the Earl of Kendal, who is on a clandestine assignment for the Crown. Already injured and facing imminent discovery by Napoleon and Fouche's men, Michael finds his escape made even more perilous when he is charged with the safety of a young boy who must be spirited out of Paris.
Desperate to escape the terrible fate that awaits her if she remains in France, Lady Gabrielle De Valmont must disguise herself as a boy and rely on the cunning of a virtual stranger—an Englishman, no less—to smuggle her out of the country. When the Earl's injury becomes severely infected, rendering him gravely ill, Gabrielle realizes it is now up to her to save them both.
Amazon | BN | iBooks | Kobo | Google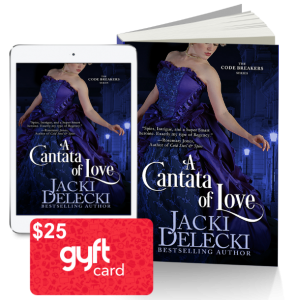 Now available! MARRIAGE UNDER FIRE, Book 4 in the Grayce Walters Mystery Series
Marine veteran Maddy Jeffers never expected her most demanding and daunting mission would come off the battlefield. Ordered to infiltrate a Seattle terrorist cell, Maddy must pose as a loving wife to Major Hunter Hines. The undercover role begins to feel all too real when Maddy falls hard for the rugged, macho Marine.
Duty and discipline are Hunter Hines's credo, guiding every decision and every action. But constant proximity with the fierce and enticing Maddy is veering his mission wildly off course. Although their role as man and wife is only pretend, there is nothing false about his out-of-control desire for his partner.
When Maddy's life is threatened by an ISIS cell, protecting her becomes the only mission that matters, and Hunter is willing to break all the rules to save her. As the danger heats up around these two veteran heroes, Maddy and Hunter must walk a narrow path between passion and survival.
Available at online retailers: Amazon | iBooks | Kobo | Google | BN