audiobook
Tag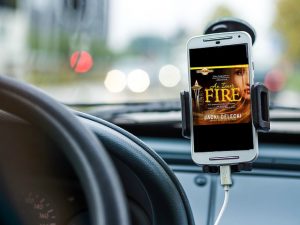 A friend of mine was moving from Virginia to Florida – a 13-hour trip in the minivan with two toddlers, a cat and a dog. She had originally planned to make the trip in two days, but ended up driving straight through. Why? Because she couldn't turn off the Harry Potter audiobook she was listening to.
Audiobooks are a great way to make the most of long hours in the car. You can listen on your own device or plug into the car's sound system so everyone can enjoy the story.  Add audiobooks to your next road trip with these easy tips:
Download the Audible or iTunes app to your cell phone or tablet before your trip and make sure it's active.
Test drive your audiobook app and device in the car. Make sure you have necessary cords and connectors.
Select a few titles before you head out. Download them so you don't need Wi-Fi to stream them.
Listen to the audio sample before selecting a new audiobook. Make sure you'll enjoy the narrator's performance to avoid being disappointed.
Take a group vote to decide on audiobooks everyone in the family will enjoy.
Choose books that are funny, entertaining and engaging.
Ask friends to recommend that favorite audiobook narrators and audiobooks.
For a chance to win one of my audiobooks, comment with your favorite audiobook or narrator.
Audiobook fans can now enjoy A CHRISTMAS CODE, Book 2 of the Code Breakers series. Narrated by Pearl Hewitt, this title joins the other two books in the series on audio.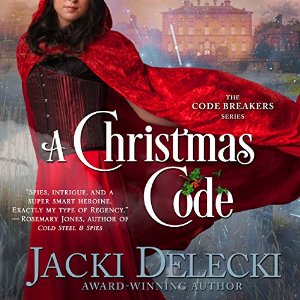 Enjoy an audio sample HERE.
Click on the book titles to purchase at Audible today!
If you would enjoy receiving a free download of this new audiobook release in exchange for an honest review, please contact my assistant Maria Connor at myauthorconcierge@gmail.com.
My name is Maria Connor, of My Author Concierge, and I am Jacki's assistant. Jacki invited me to write a guest blog on our recent experience in creating the book trailer for her new audiobook release, A CODE OF THE HEART.
There are many services available that will create book trailers, but in reality, these video teasers aren't that difficult to put together and it's fun to occasionally venture into a different creative sphere. Assembling visual and audio elements requires a different perspective than working with words, but it is no less rewarding.
Join me now for a behind-the-scenes look at creating book trailers.
Developing a book trailer starts with a script. This can be the book cover copy (also called the book blurb or book summary), an excerpt from the book, or something entirely different. For A CODE OF THE HEART, we used a brief excerpt that reflected the storyline, plus the tag line for the Code Breakers series. The script can either be narrated or added as text.
The next step in the process is to assemble the graphic and audio components. This can be a challenge, as you must comply with copyright laws. You must have permission or be authorized to use the content in your trailer. To avoid any problems, I either use images owned by myself or the author, or stock art/music I have purchased. You can also use material under a Creative Commons license.
Finding licensed images for Regency romance can sometimes be a challenge. One of the images we considered using for this book trailer was discarded when we realized the male model–posed in a classic historical romance cover embrace–was wearing a gold chain necklace. We didn't want any readers complaining about the historical inaccuracy of such an image so we selected a different graphic. Another way to solve the problem of limited Regency England images is to look for photos that reflect the story elements without specifically portraying them. For example, in this book trailer, the "spilled" tea cup represents the poisoning, danger and betrayal incidents in the story, while the British flag was selected to signify the intrigue and danger to the British monarch.
I use Windows Movie Maker to assemble the audio and video elements into a finished product. For the audio "mixing," I use Audacity, a user-friendly program that is essentially just cutting and pasting portions of sound tracks together.
A Code of the Heart Book Trailer from Jacki Delecki on Vimeo.
For a sample of Jacki's new audiobook, listen HERE.
I hope you enjoy our creative efforts and that we've made you curious to learn more about Jacki's Regency romantic suspense! If you'd like more information about Jacki's audiobooks, you can find A CODE OF LOVE and A CODE OF THE HEART on Audible, Amazon and iTunes.
I don't like to make generalizations but it seems like many historical novels focus on the goals, motivation and conflict as it relates to the heroine. A marriage of convenience. A compromised reputation. The orphaned miss who seeks gainful employment. It's important to remember that heroes need goals and motivations too. As authors, we must create emotionally compelling internal and external conflict for both our heroines and heroes.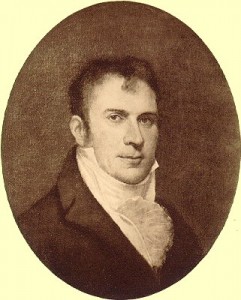 While working on research for my book, A CODE OF THE HEART, I came across some interesting facts about Robert Fulton, an American inventor and engineer who is credited with developing the steamboat. During the course of his life, he traveled around the world, collaborating with other inventors and scientists on naval vessels and weaponry. He designed the first working submarine while in France before switching alliances and moving to England, where he was commissioned to build weapons for the Royal Navy. One of Fulton's "secret weapons" was the torpedo-catamaran, which the British Navy hoped to use to blow French ships out of the water. Like many inventions, the early model had some functionality issues, but I was intrigued by the concept of French-British espionage.
When I began developing my characters for the story, I started wondering what it would take to redeem a disreputable young rake. Perhaps protecting his country by preventing a secret weapon from falling into the wrong hands would work. So that is exactly the challenge I put in front of Lord Derrick Brinsley, as well as the not-so-small matter of proving his worth to the very proper society miss, Amelia Bonnington.
By using the information I discovered during my research, I was able to create strong goals and conflicts for my hero, thus adding dimension to him on the pages of my book. Audiobook narrator Pearl Hewitt has been working with me over the last few weeks to make Derrick "sound" like a Regency hero. The audiobook version of A CODE OF THE HEART is in the final stages of production and will soon be available. I hope you'll listen in and let me know what you think of Derrick and Amelia Bonnington, the heroine of the story.
Click on the audiobook cover for A CODE OF THE HEART to listen to a sample.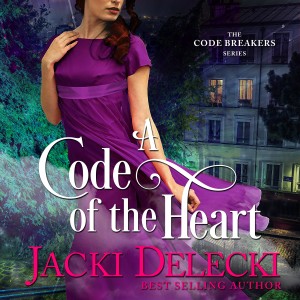 My first venture into the production of audiobooks was A CODE OF LOVE, Book 1 of the Code Breakers series. Even as the book's author, it was incredible to hear the story come to life!
I'm thrilled to announce that Pearl Hewitt, the narrator for A CODE OF LOVE, will also be working with me to produce the audiobook version of A CODE OF THE HEART. If you'd like a preview of Pearl's talent and how she brought my characters to life, you can enjoy a brief sample at Audible.com or check out this book trailer, which features Pearl's narration.
Keep an ear peeled for more details.