Seattle and Washington State home to bestselling romance authors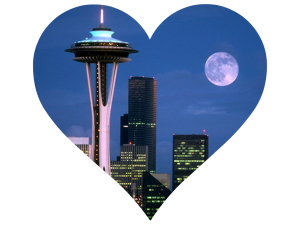 In 2013, the estimated annual sales value of romance was $1.08 billion, according to BookStats. Some of the bestselling authors contributing to this number hail from here in Seattle and across Washington State. Here are a few of the well-known romance authors representing the Pacific Northwest.
Debbie Macomber (Port Orchard)
Lisa Kleypas (Bellingham)
Kristin Hannah (Bainbridge Island)
Julia Quinn (Seattle area)
Jayne Ann Krentz w/a Amanda Quick and Jayne Castle (Seattle area)
Washington state is also home to six RWA chapters. For a comprehensive listing of romance writers based in the Pacific Northwest, visit the membership listings for these chapters.
Inland Empire Chapter (Spokane)
Peninsula Chapter (Washington)
Who is your favorite Washington State romance author? Or, if you're a writer from Washington State, tell us what you love most about living in The Evergreen State!