My favorite Christmas cookie recipe
I have to admit, I'm not one of those talented women who can whip up a gorgeous collection of holiday treats. I don't putter for hours on end in the kitchen and my meal-planning skills lean toward quick and simple.
But baking cookies at Christmas is such a time-honored tradition that even I had to find something that would allow me to find joy in the kitchen this time of year. My solution is Martha Stewart's sugar cookie recipe. My favorite cookie cutter shape is the penguin, but you can adapt this recipe for any cut-outs.
If you are in search of your own family traditional cookie recipe, I hope you'll give this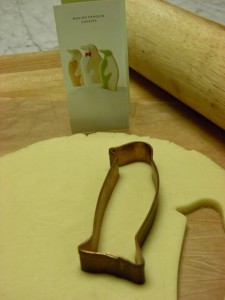 one a try. I've spent many happy hours with family and friends preparing these wonderful treats!
Ingredients
• 4 cups sifted all-purpose flour, plus more for surface and more if needed
• 1 teaspoon baking powder
• 1/2 teaspoon salt
• 8 ounces (2 sticks) unsalted butter, softened
• 2 cups sugar
• 2 large eggs
• 2 teaspoons pure vanilla extract
• Royal Icing
Directions
1. Sift flour, baking powder, and salt into a bowl. In a separate bowl, beat butter and sugar with a mixer on medium speed until pale and fluffy, about 3 minutes. Beat in eggs and vanilla. Reduce speed to low. Gradually mix in flour mixture. Turn out dough, and divide in half. Flatten each half into a disk, and wrap in plastic. Refrigerate until firm, at least 1 hour or overnight.
2. Preheat oven to 325 degrees, with racks in upper and lower thirds of oven. Let one disk of dough stand at room temperature just until soft enough to roll, about 10 minutes. Roll out dough on a lightly floured work surface to just under 1/4-inch thick, adding more flour as needed to keep dough from sticking. Chill in refrigerator until firm, about 30 minutes. Cut out cookies using desired cutters or templates. Transfer to parchment-lined baking sheets as you work. Roll out scraps, and repeat once. Repeat with remaining disk of dough. Chill cookies in freezer until very firm, about 15 minutes.
3. Bake cookies, switching positions of sheets and rotating halfway through, until edges turn golden, 15 to 18 minutes. Let cool on sheets on wire racks. Decorate with Royal Icing.
Cookies can be stored at room temperature for up to 1 week.
What is your family's favorite Christmas cookie recipe?