March 2 is Read Across America Day
As part of its Rea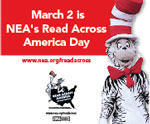 d Across America reading program, the National Education Association (NEA) is celebrating Read Across America Day. This celebration coincides with the birthday of Dr. Seuss. More than 45 million teachers, parents and students are expected to participate in events geared toward "getting young people excited about reading."
Parents, especially mothers, are influential in helping children develop reading skills and in becoming lifelong readers. Consider these facts about children's literacy from the NEA:
According to the National Center for Education Statistics (NCES), a divison of the U.S. Department of Education1, children who are read to at home enjoy a substantial advantage over children who are not.
According to NCES, only 53 percent of children ages three to five were read to daily by a family member (1999). Children in families with incomes below the poverty line are less likely to be read to aloud everyday than are children in families with incomes at or above poverty.
The U.S. Department of Education found that, generally, the more students read for fun on their own time, the higher their reading scores. Between 1984 and 1996, however, the percentage of 12th grade students reporting that they "never" or "hardly ever" read for fun increased from 9 percent to 16 percent.
Were you an avid reader as a child? Who inspired you to start reading? Share one of your favorite books from when you were a young reader. And take time to read today – with a child, with a friend or all by yourself!