Hot Summer Read: AN INNER FIRE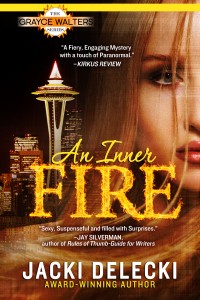 AN INNER FIRE "perfect for a summer read," says Night Owl Romance.
Lisa Jung, a Night Owl Romance reviewer gave AN INNER FIRE a 4-star review, accompanied by this outstanding commentary:
"Debut author Jacki Delecki takes readers into the world of hot firefighters and a vet that reads dogs.
Graycee is a vet who has a practice in acupuncture for dogs. Not only is she a strong modern women she reads animals auras and receives premonitions from her dead sister. One of these paranormal encounters leads her to witness a burning shed and to the attention of Lt. Davis, the fire inspector. Things heat up for Graycee and Davis as they solve a crime and Graycee tries to protect the guy she loves. With a little help from her friends we have a happy romance for all.
An Inner Fire is a hot new romance that is perfect for a summer read. Who doesn't love a strong alpha hero, a damsel and a poodle names Mitz? Davis is the entire typical alpha hero, but he has a sweet side. Graycee is the perfect partner. She's strong, sweet and willing to go the extra miles for the people around her. Also the secondary characters are strong and funny. James, Graycee's best friend, was a jewel.
An Inner Fire had a mystery to solve that kept the story interesting as the story progressing. This is an all-around a great read. I look forward to read Jacki Delecki's next book."
If you haven't yet read AN INNER FIRE, get your copy today!