Holiday To Do List
The closer we get to Christmas, the more frantic some people seem to get. They're in a rush to send out Christmas cards. They prowl the mall in search of the "perfect" gift. They stockpile ingredients for six different types of holiday treats. They fret and snap and grumble.
In short, they lose sight of the true meaning of Christmas. Whether you celebrate Christmas as a religious holiday or not, this annual celebration has come to symbolize a season of hope, compassion, tolerance, peace and love. Don't get so caught up in the logistics of the holiday that you forget the true meaning of the spirit of Christmas.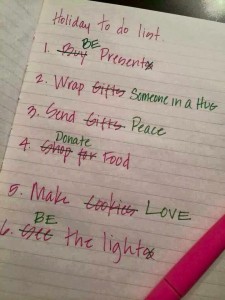 What's on your Holiday To Do List?