Historical romance giveaway ~ win a Kindle Fire.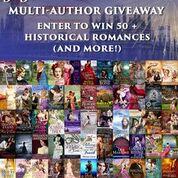 To celebrate July 4th, I've teamed up with more than 50 fantastic authors to give away a huge selection of historical romance novels, PLUS a Kindle Fire to one lucky winner!
I'm giving away my book A Christmas Code.
You can win books from: Andrea Pickens, Anne Gracie, Barbara Devlin, Brenda Hiatt, Bronwen Evans, Collette Cameron, Cynthia Wright, Deb Marlowe, Donna Fletcher, Donna MacMeans, Edith Layton, Glynnis Campbell, Joan Wolf, Joanna Shupe, Julie Johnstone, Kathryn Le Veque, Lauren Royal, Lauren Smith, Linore Burkard, Lynne Barron, Mary Jo Putney, Meara Platt, Nicola Cornick, Patricia Rice, Selena Kitt, Susana Ellis, Suzan Tisdale, Tammy Andresen, Vanessa Kelly, and more!
The Grand Prize winner receives a Kindle Fire and all participating books. Four runner-ups will receive a selection of participating books.
Contest ends July 11.