Happy Mother's Day Wishes...a few days early!
This blog post brings special Mother's Day wishes to all my female readers! I believe all women play a role in nurturing and raising children so take time to honor yourself and celebrate your role as a mother, mentor, guide, teacher and role model!
What is your favorite way to spend leisure time? What activities invigorate your spirit and soul? Is it curling up with a good book? Preparing a large meal for family and friends? Girls' night out?
I am fortunate in that I am able to pursue several interests that fuel my passion and zest for live. Storytelling is one. Gardening is another. During this time of year, the outdoors are a vibrant collage of colors and scents and textures! These are a few of the flowers that greet me when I enter my garden.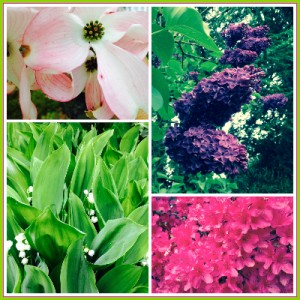 I'm also inspired by the young children I meet on the Pike Place Market tours I guide. But my first love was and is the performing arts. I trained as a jazz singer and dancer during my youth and have performed many roles with the Seattle Opera Company and Pacific Northwest Ballet. In April, I performed in the PNB's production of Swan Lake.

Wishing you a happy Mother's Day filled with friendship, love and relaxation!