Elegant Thanksgiving Side Dish
I love the holidays and I love to cook, but there's nothing worse than being stuck in the kitchen slaving over a meal when the rest of your friends and family are gathered elsewhere. That's why I look for elegant but easy recipes for holiday meals.
Epicurious is my go-to site for recipes, but this recipe is my favorite from Williams-Sonoma. It features two of my seasonal favorites: Brussels sprouts and chestnuts. I hope you'll give this delicious recipe a try, perhaps as part of your Thanksgiving dinner or other festive occasion. It's even simple enough to enjoy for a weekday meal!
Roasted Brussels Sprouts
Ingredients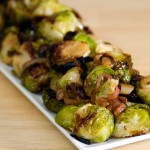 :
6 oz. bacon, diced
5 shallots, minced
4 lb. brussels sprouts, halved lengthwise
1 cup roughly chopped roasted and peeled chestnuts (fresh or jarred)
2 Tbs. chopped fresh thyme
Salt and freshly ground pepper, to taste
Directions:
Preheat an oven to 425ºF.
In a large roasting pan or ovenproof sauté pan over medium heat, cook the bacon until crisp, 5 to 8 minutes. Add the shallots and cook until soft, about 2 minutes. Increase the heat to medium-high, add the brussels sprouts, chestnuts, thyme, salt and pepper and stir well.
Transfer the pan to the oven and roast for 15 minutes, then stir the ingredients. Continue roasting until the brussels sprouts are tender, about 10 minutes more. Transfer to a serving dish and serve immediately. Serves 6.
Enjoy!