Easter and Springtime Safety Tips for Pet Owners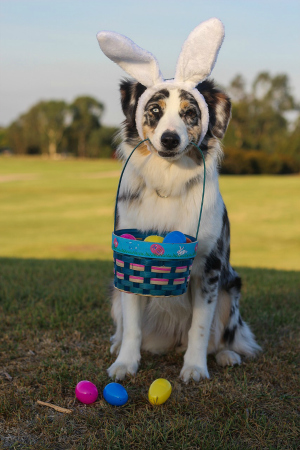 After a long and dreary winter, springtime is finally here! One of the first celebrations of the season is Easter–which means chocolate and lilies and other health risks for pets.
Make pet safety part of your planning process when you organize gatherings, decorate for holidays and have special treats in the house. Here are a few of the most dangerous hazards for dogs and cats.
Flowers and Plants
Lilies and daffodils are two of the most popular springtime flowers. Both are toxic if ingested by cats.
Easter Grass
Lining baskets with brightly colored Easter grass is as much a tradition as colored eggs, but the strands can cause major medical problems if they get into an animal's digestive track. Avoid problems by lining baskets with tissue paper instead. (Hint: Ditto for Christmas tinsel!)
Chocolate
Be careful if hiding treats is part of your Easter fun. Dogs have keen sniffers and may find hidden chocolate treats. It is the theobromine and caffeine in chocolate that's dangerous to pets. The severity of an animal's reaction to consuming chocolate depends on how much and what type. Play it safe by keeping chocolate put up where dogs and cats can't get into it.
Xylitol
This artificial sweetener, used in candy and baked goods, can have adverse effects on humans when eaten in excess amounts. It only takes a small quantity to harm dogs.
Warning Signs That Your Pet May Need Veterinary Care
Lethargy
Vomiting
Trembling
Diarrhea
Straining to defecate
Painful/distended abdomen
Dehydration
Loss of appetite
Remember that holidays and celebrations are fun for you, but they may be disruptive for your pet. If you are traveling or having company, plan ahead so your pet remains safe, comfortable and well behaved.
Happy Springtime!
Traveling with your pet