Christmas Romance Extravaganza Giveaway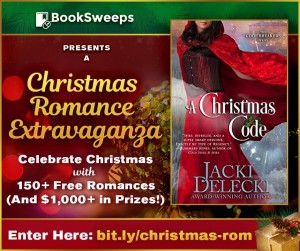 Have you read my historical Regency romance novel A Christmas Code? In celebration of the holidays, you can download the book for free, plus more than 150 fantastic romance novels from an amazing collection of authors – and win over $1,000 in prizes!
To enter the giveaway and download your choice of ebooks, follow this link:  http://bit.ly/christmas-rom
The Christmas Romance Extravaganza is open through December so be sure to check out all of the available ebooks.
Wishing you a joyous holiday season!
#amreading #amwinning