Women Under Fire
Category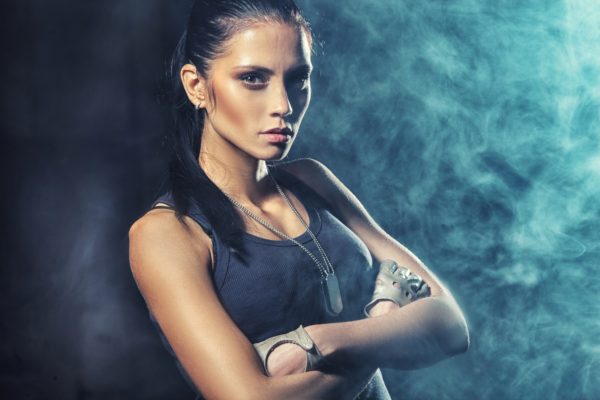 Angie stood motionless in the shadow of a misshapen cypress tree. The setting summer sun of Seattle didn't relieve the cold frisson of danger or the press of her revolver's cold metal against her skin. Although it had been months since her last reconnaissance mission, her body recognized the drill and tightened into high alert.
Splatters of fading sunlight danced across the sagging house. Official yellow tape was wrapped around the turn of the century beauty like a Christmas bow on a crushed, forgotten present. A "condemned" sign was nailed to the warped door. The crumbling front steps looked like their weight bearing days were a distant memory.
Not sure how to proceed, she waited and watched the abandoned house in the residential Ravenna neighborhood until it got dark. Should she take the squatters unaware? Surprise Maddy before she could run?
She moved from her hiding place to investigate the back of the house. The yard was littered with broken glass, smashed Styrofoam carryout containers, and plastic bags mired in mud from the wet Northwest summer. She stepped over the yellow tape that was haphazardly hung around the back steps, turned the handle, and then pulled open the back door. It was unlocked. The rusting hinges screeched.
"Maddy, it's Angie from your VA group." She reverted to her forceful military command voice. "I'm coming in."
When the door was thrown wide open, small dark bodies—rats—scurried away. Dread raced down her spine into the tips of her toes. God, she hated rats. This rat hole was worse than anything she had seen during her tours of duty in Afghanistan.
She stepped gingerly over the bags of garbage strewn on the uneven linoleum floor. The smell of the years of neglect and black mold hit her sensitive nose. She tried not to breathe. All of her senses heightened in the darkness, an internal radar honed from door-to-door urban combat. She took another two steps, listening for sounds other than the resident rodents.
"It's Angie from your VA group." She wasn't too worried about handling a high Maddy, but handling her companions might get tricky. After eight years as a Marine, she was used to tricky. And after everything Maddy had gone through in Afghanistan, Angie wasn't about to let her friend descend into another hell.
She reached in the pocket of her jeans for her tiny penlight as she walked into the dark dining room. The light of her flashlight reflected back at her from a cracked mirror hanging over the fireplace, then a sudden, shiny motion. Before she could react, a bright burst of pain exploded in her head. She fought against overpowering blackness.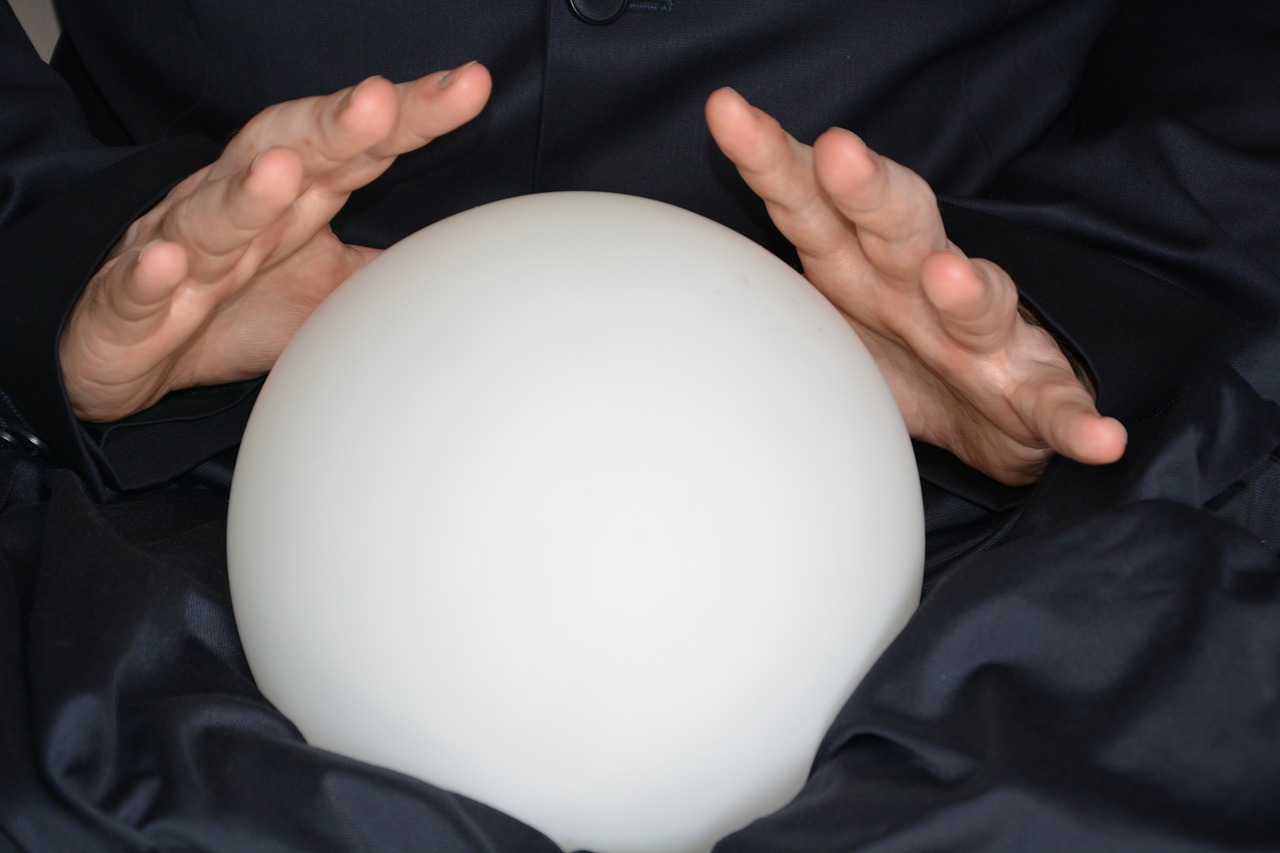 Ambushed by Aunt Aideen, Grayce Walters was trapped. The bonds of social pressure gripped tighter around her wrists and ankles, holding her captive in the kitchen chair. She couldn't escape tonight's séance.
Dressed in a flowing cobalt-blue caftan, Aunt Aideen ceremoniously placed a scarred, black box on the table and then carefully opened a chest lined in red velvet and raised a glimmering crystal ball into the air. "This Keek-Stane has been passed down through generations of Scottish witches."
The enormous kitchen suddenly went airless. Grayce gulped for a breath. Mitzi, who had been sleeping under the table, protectively covered Grayce's feet with her paws.
Grayce knew nothing about tarot cards or witches. Why hadn't Davis warned her that his aunt considered herself a witch? Grayce had recognized Aunt Aideen as a gifted intuitive, but not a witch, whatever that meant.
Aunt Aideen placed the ball in the center of the table spread with tarot cards. "The Keek-Stane guides me in the reading of the cards."
A call to a suspicious fire had interrupted the cozy dinner with her boyfriend, his aunt and dog. If Davis had stayed, she'd be eating dessert instead of having a metaphysical experience.
Aunt Aideen's enormous moonstone ring flickered in the candlelight as her hand hovered over the cards. "We must look to the future."
Grayce couldn't see the card. She felt light-headed from the burning sweet flag incense or from the ominous energy swirling from the crystal ball.
As she turned over the first tarot card, the large woman's usual booming voice grew quiet with a mysterious Gaelic lilt. "The Knight of Swords."
Prickly sensations lifted the fine hair on Grayce's neck. Mitzi came from under the table and sat next to Grayce's chair.
Aunt Aideen opened her massive hand to allow Grayce to see the card—a medieval knight in armor on a powerful white horse rode toward a battle in the distance. The horse's harness was decorated with butterflies and birds. The sky behind him was filled with storm clouds and the trees, tossed wildly by the wind. The knight resembled St. Michael the Archangel.
"The Knight of Swords is hard to resist," Aunt Aideen intoned.
Davis obviously fit the Knight of Swords. His commanding presence, physical strength, and his commitment to fight crimes made him the perfect archetypal hero.
Heat moved across Grayce's cheeks in embarrassment. "Davis was hard to resist." Grayce knew first hand. As a witness to arson, she had been interviewed by the sexy fire investigator and had fallen in love with the irresistible man.
"My nephew, Ewan Davis, is in no way a Knight of Swords. Davis is an Emperor, a man of the logical world, like his Scottish forebears. The Knight of Swords is a messenger, a call for adventure. He does not see, nor does he care about risks or dangers and instead moves forward with his strong determination and strength to succeed, no matter what.
Grayce wasn't going to discuss Davis' ability as an adventurous lover with the aunt who had raised him after his mother's death.
"The knight will call to you from your dreams." Aunt Aideen's solemn voice and the shimmering moonstone known for clairvoyance were doing strange things to Grayce's perceptions. The images in the room faded in and out. The heightened energy from the ball moved in undulating waves.
"His call will challenge you to leave your present way of being." Aunt Aideen's eyes were in the shadows, but Grayce felt her focused stare. "The Knight of Swords can also be seen as a warning."
With the soft burr of Aunt Aideen's Scottish inflection, the wavering candlelight and the nutty scent of sweet flag, Grayce was floating into deep relaxation.
Aunt Aideen's voice lost its soothing rhythm. "And it doesn't take a seer to predict that Davis will have trouble with the knight's appearance in your life. Davis needs to be your protector."
Grayce came immediately out of her meditative state. Davis tried very hard to control his fear of unforeseen disasters by guarding all those he loved.
"Does the knight have to be human? Maybe I'll have a new patient?" Grayce asked.
Aunt Aideen kept her eyes closed. Her muted voice was firm. "I see a tall, dark man in a uniform. He holds a gun."
Shivers of fear danced on Grayce's skin.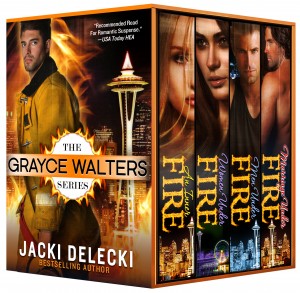 THE GRAYCE WALTERS SERIES: Grayce Walters, intuitive animal acupuncturist, finds herself drawn into danger in the name of protecting her animal clients. One extraordinary woman reluctantly battling evil on the streets of Seattle with an unconventional collection of crime-fighting accomplices: Her heart throb, alpha-macho hunk, Fire Investigator Captain Ewan Davis; her best friend James, a gay cross-dressing, karate master who can take bad guys down as long as he doesn't ruin his hair; her office assistant Hollie, a street wise girl gamer; and Mitzi, a black standard poodle who's anything but standard.
This four-book anthology from bestselling romantic suspense author Jacki Delecki includes:
An Inner Fire
Women Under Fire
Men Under Fire
Marriage Under Fire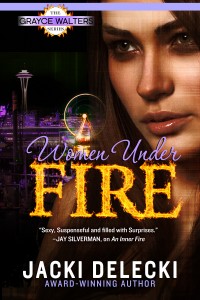 If you haven't picked up my latest release, WOMEN UNDER FIRE, Book 2 in the Grayce Walters series, enjoy this excerpt.
About WOMEN UNDER FIRE:
Life has heated up for Grayce Walters: thrust into the public eye and hounded by the media after solving an arson case with a critical clue from a French Poodle. When Ewan Davis, the sexy arson investigator Grayce has been steaming things up with, starts talking commitment, she definitely feels the burn.
Then a desperate mother begs Grayce to help find her missing daughter—an Afghanistan war veteran suffering from PTSD, and Grayce reluctantly takes on the case, following a disturbing clue provided by the missing young woman's cat. Calling once again on the aid of her cross-dressing best friend and her shrewd assistant, Grayce uncovers a terrorist plot with chilling international implications.
Grayce races to rescue the young veteran before the escalating danger explodes. But if she manages to escape the threat, will she find the courage to commit to the fiery passion that awaits her wrapped in Davis's arms?
Click here to read the opening scene of WOMEN UNDER FIRE.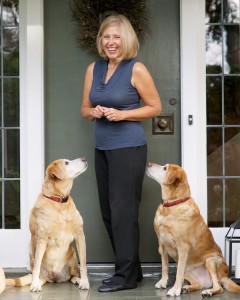 One technique authors use to get familiar with their characters is conducting an interview. Posing a variety of questions and imagining how a certain character would respond helps to develop a complex, believable hero or heroine. Instead of interviewing a fictional character, I'm going to share few questions from an interview I recently did. I hope you discover something new about me!
How long have you been writing?
Five years.
Do you ever suffer from writer's block? If so, what do you do about it?
It is very difficult when you're writing for deadline. I always go outside. Nature always helps me relax and to slow my brain from spinning.
Tell us something about your newest release that is NOT in the blurb.
My newest release has a terrorist plot. I've consulted with a national terrorist expert who consults with the CIA. My family is worried that either the FBI or CIA are going to come for me over my Google Searches and emails.
Are you working on anything at the present you would like to tell us about?
As I finish Women Under Fire, I'm making notes for my Regency release, part of The Code Breakers Series. A Cantata of Love. I find when I'm stressed about my writing, I love making up the next book's plot.
What are you reading now?
Mary Balogh's latest release The Escape and Julie Garwood's Hotshot. I'm always reading several books at once.
What is your favorite food?
My favorite food is kale salad. I also love seafood, so it's convenient living in Seattle.
Where are you from and what do you love best about your hometown?
I've lived in Seattle for so long, I consider it my hometown. Seattle is physically outstanding with water and mountains on all sides. Love my city and have made it a character in my Grayce Walters Series.
What's the weirdest thing you've ever done in the name of research?
I love all the things I do for research:  go to Gay Bingo, work with Seattle's Fire Department, go to museums in Paris, but probably the weirdest is I'm ALWAYS listening to people's conversations. I want to hear how people are talking to each other. I once stopped and tied my shoe for 5 minutes to hear a couple argue.
Jacki Delecki is the author of Regency and contemporary romantic mysteries. Her most recent release is Women Under Fire, Book 2 in the Grayce Walters Series.