Espionage Thriller
Category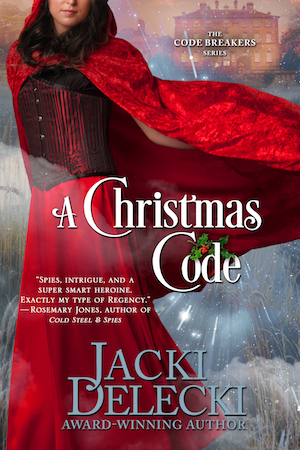 The door to the conservatory squeaked open pouring light into the room. She jumped behind the Palmaceae. Her heart accelerated wildly. She waited, her ears drumming with the silence.
"Gwyneth?"
Ash's whispered voice was a balm to her shattered nerves.
She stepped out from the plant. "Ash, I'm here."
He walked toward her. His strong profile and confident walk made her want to run into his arms, but she controlled the impulse.
"Why are you hiding?" He asked in a teasing tone.
"Why were you late?" She didn't like the idea that he'd found her frightened at their first secret rendezvous.
"Late?" He placed one hand on his hip, his tone sardonic. "I didn't realize I was late."
"Never mind. I'm unsettled after my fall."
He stepped closer to inspect her carefully, his light eyes moving over her body. "Did you trip?"
She wasn't quick to get mad, but she felt the anger slowly moving up her spine. Cord and Ash had tormented her relentlessly about her clumsiness when she was a young girl. "First of all, I didn't trip as you suspect. And I wasn't clumsy as a girl. I always tried to impress you with my daring feats. And I accomplished my deeds despite growing almost as tall as Cord in one year."
Ash snorted, which only added fuel to the burning fire of her displeasure.
"Honey, you're not that tall."
His endearment went a long way in appeasing her. "Did you just see Lady Charolois in the hallway?"
"No. I didn't see anyone."
"She just ran out of the door at the same time someone knocked me down."
"Someone knocked you down?" Ash pulled a pistol from beneath his waistcoat and scanned the room. He moved closer to her. "Are you hurt?"
"I'm fine, just shocked."
"Which way did he go?"
"I'm sure he left through the garden door when I was getting up from the floor."
"Did you recognize him?"
"No. When I was struggling to stand up, I heard the door open and saw Lady Charolois running out of the door."
"Let me take you to your room then I'll come back here to look around." Ash took her by the elbow and led her toward the door.
"I'm not going to my room. I'll go with you." She pulled away from his arm.
He took her arm again and led her to the hallway. "You're not going anywhere, but back to your room. You could've been hurt…"
She looked down the hallway and behind her before she whispered, "I'm fine. You said I could be part of this mission."
Research is one of the reasons I love writing Regency-era romantic suspense. Digging into history is fascinating and these factual events often inspire my plots. A Cantata of Love, book 4 in the Code Breakers series, features spies that use music to transmit secret messages. Here is an excerpt for you to enjoy.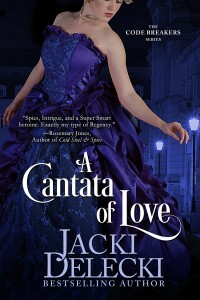 About the Book
Napoleonic France is no place for an Englishman, especially Michael Harcourt, the Earl of Kendal, who is on a clandestine assignment for the Crown. Already injured and facing imminent discovery by Napoleon and Fouche's men, Michael finds his escape made even more perilous when he is charged with the safety of a young boy who must be spirited out of Paris.
Desperate to escape the terrible fate that awaits her if she remains in France, Lady Gabrielle De Valmont must disguise herself as a boy and rely on the cunning of a virtual stranger—an Englishman, no less—to smuggle her out of the country. When the Earl's injury becomes severely infected, rendering him gravely ill, Gabrielle realizes it is now up to her to save them both.
Excerpt – Prologue & Chapter One
1803
In the seaside town of Berck, France
Gabrielle De Valmont brushed back Lord Kendal's blond curls and applied the wet cloth to his burning brow. His long, golden waves and eyelashes accentuated his fiery red cheekbones. In their days of hard travel from Paris, the earl's gunshot wound had festered into a nasty infection.
At this moment, he rested. For days, when the fever spiked, he thrashed about, calling out about sending a code book to a woman named Henrietta.
Desperate to soothe him, Gabrielle discovered that he would calm with the French songs of her childhood.
They couldn't hide much longer without being discovered by Napoleon's or Fouché's henchmen. When the earl's condition had worsened to the point where he could no longer travel, Gabrielle had brought them, under cover of darkness, to her former mémé's tiny village of Berck, south of Calais.
For eight long days and nights, she had cared for the feverish earl. Their presence in the tiny town couldn't be kept secret much longer. They must leave Berck, and France, soon. But how could they flee with the French soldiers on high alert, inspecting every boat crossing the English Channel?
Monsieur Denby, Lord Kendal's valet, had assured her that he had a plan to divert their attention.
Exhausted and despondent, she beseeched the Blessed Virgin for their safe escape and the earl's recovery.
She also prayed that the earl would forgive her and Mother Therese for their deception. She had to believe that Lord Kendal would never abandon her to her terrible fate.
***
Michael Harcourt, the Earl of Kendal, woke to a soft voice and the delectable smell of a woman. She smelled like wildflowers. And her voice was soothing and sweet. Last night must have been one hell of a night of dissipation since he remembered nothing. But he had dreamed of his French mother crooning to him.
What was wrong with him? He had been in bed with a French woman, and he'd thought of his mother. His head ached as if horses had trampled over him. He tried to remember her name—Yvette? Or was it Mimi? He cracked open one lid. Big blue eyes the color of cornflowers stared down at him, and a lush, pink lower lip pouted. How could he have forgotten this angel's name? Yvette. Definitely Yvette. "Yvette? Or maybe Mimi?"
He needed her again to refresh his memory. He raised his arms to pull her against him. He grabbed for her, but his arms felt weak. Thank God the rest of his body wasn't that tired. She yelped when he wrapped his arms around her and pulled her on top of him. "Yvette, darling. Don't fight me. I need you."
Yvette gasped and tightened against him. He rubbed himself against her slender body. Not his usual type, he noted. Clearly not an opera dancer by the slender frame. What had he drunk last night that he couldn't remember this delectable handful?
"Let go of me," she hissed.
He whispered against her soft, tender neck, kissing her ear. "Were you this feisty last night?"
"Let me go, you brute." She shouted in his ear, causing his head to feel as if it were cracking wide open. She jumped back, tripping on the bedclothes and knocking the water canister from the side table. The loud crash reverberated in his head.
Women didn't fight him. He was a generous lover. Was he overlooking something from last night?
Michael looked at the disheveled, bewitching woman glaring at him. Hair the color of honey sparkled in the morning sunlight, but her bright eyes were now dark and stormy.
Damn, damn. She looked far too innocent and way too marriageable. What had he gotten himself into?
He rearranged the bedding to hide the obvious, then lifted himself to the head of the bed.
The mademoiselle didn't look so much offended as just plain pissing mad. Her eyes had narrowed, and she glowered at him—the look of a woman who might impale him with the fireplace poker. He had gotten into a lot of scrapes, but this wasn't how he imagined finding a wife.
The door to his bedroom swung open, knocking against the wall. The pain behind his eyes pounding like a son of a…
Denby, his valet, stormed into the room, swearing under his breath. "What the hell? Are you alright, Mademoiselle Gabrielle?"
She gestured with her hands and spoke in rapid French to Denby. Had she just called him, the Earl of Kendal, a "stupid horse's ass"?
Denby took the irate woman's arm. "I'll clean up the mess. Now that he's awake, you should prepare yourself to leave. We've a long journey ahead of us."
With no word of farewell, the Mademoiselle Gabrielle huffed and left the room.
Denby chuckled. "Barely awake and already causing problems." He bent to pick up the water container. "It is good to see you back, my lord. You scared the hell out of me. If it weren't for Mademoiselle Gabby's nursing, I'm not sure…"
"I've been sick?" He did feel a bit weak after his tussle with the delectable young woman.
"You developed a fever right after we escaped from Paris."
The memory of fleeing Paris and Fouché's men brought him totally awake. "My last memory is leaving Paris dressed as a nun."
Denby handed him a glass that had survived the mademoiselle's spirited response. "You developed a fever from your gunshot wound, and we had to hide out here. This is where Mademoiselle Gabby's nanny is from and the people helped us."
Gabby. He didn't have any recollection of Gabby when they left Paris. "How long have I been out? And who is Gabby?"
"I'm glad you're ready to travel. I've got a bad feeling if we don't get out of here soon, all of Fouché's and Napoleon's men are going to descend."
He only remembered Denby, and the boy, Pierre, fleeing for their lives dressed as nuns. He had stolen the code book from Le Chiffre, and everyone in Paris seemed to be after him. He wondered if Henrietta had received the book.
"Any news from England? Do we know if Henrietta received the package?"
"I haven't been able to make any contact. We've been in hiding. I've arranged for a boat from Calais. They've been waiting for a signal that you're able to travel. We go tonight with the tide. I want to get us out of France. I can't breathe here."
"Did you shake the villain who was posted at my house in Paris too?"
"Yes, but we can't stay here any longer. I'll change the bandages and get you some breakfast. You'll rest up before we make the trip. We have to go by horseback, and I hope it won't open your wound."
He suddenly was assailed with the ignominy of the location of his wound. He had been shot in the arse by an unknown assailant while fleeing after he had stolen the code book. The code book, literally, was a pain in his arse.
He sure hoped to hell it gave England a tactical advantage against the power-hungry Napoleon.
For more information or to keep reading, click HERE.
Save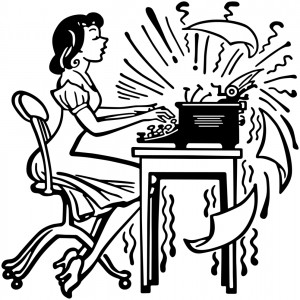 Thanks to everyone who entered my recent "Name That Heroine"  contest. I had great fun reading more than 350 suggestions from readers. I've narrowed the selection down to Zosia or Sophia/Sophie, another version of Zosia.
Congratulations to Ellen T. and Marcy B. who submitted the same suggestion. Both of you will be receiving $10 Amazon gift cards.
If you'd like to participate in exclusive contests and giveaways, be sure you are signed up for my mailing list.
If you haven't had an opportunity to enjoy the except from my new contemporary military romance series, keep reading for a sneak peek.
---
"Move."
Aiden, crouched behind the boulders in the predawn darkness, whispering into the commo mike, directing his unit to surround the mud hut huddled beneath the shadows of the Safed Koh Mountains. His skin prickled with awareness, reacting to every sound in the freezing, still December night.
This snatch-and-grab was straightforward—standard OPS for his Delta team. Minimize collateral damage to rescue the American doctor out of Afghanistan before he disappeared into Pakistan, never to be heard of again, or he appeared on a jihadist YouTube video and it was too late.
The urgency for an immediate rescue of the MD from the Doctors without Borders saddled his team with two volunteer SEALs. His men were obliged to play nice with the SEALs, but Delta Force, the top of the military food chain, didn't have "play nice" in their manual. Not ideal to try to blend his well-oiled Delta unit. But when did he ever get ideal?
One last time, Aiden scanned the rocky hillside above and the perimeter of the hut. His calm heart rate and even breaths reflected intensive training to control the adrenaline spikes.
The quiet stealth of his operators slipping into their positions, guided by their night vision googles, was shattered by the clipped tattoo of automatic rifles. The SEALs were under fire.
After the eruption of the SEALs gunfight in the rear, two Taliban, robes flying, burst through the front door, their outdated but still deadly Russian AK-40s ready to fire.
Intel from the drone surveillance had reported ten men guarding the hostage, leaving at least five unaccounted-for jihadists. He liked the odds a lot.
Positioned behind a rocky mound, Tony Bam Bam, fired his Stoner Sr-25 sniper rifle, taking out the two at the front door, providing the cover needed for Aiden to breach the hut, with Lewis and Ross following.
Keeping his AR-15 at the ready, Aiden entered the small space. A lone enemy, his AK-40 pointed at a man on the ground, didn't hear Aiden steal up behind him, since he was occupied hitting the man with the butt of his rifle and shouting in Pashto for him "to stand up." The downed man had his arms and hands wrapped over his head, trying to protect himself. Aiden grabbed the enemy from behind in a choke hold—tightening his forearm around the man's throat until he quit struggling. Aiden silently dropped his dead weight onto the dirt floor.
The man on the ground rolled to his feet and darted for the corner of the room. Not knowing whether he was a militant grabbing a gun or the hostage diving for cover, Aiden aimed his assault rifle at the moving man.
"Are you Doctor Wilson?"
The man hovered in the corner. "I am. And who are you?"
At the same moment the din of the gunfire—the strike, strike, strike concussion of the AR-15s and the AK-47—erupted outside the hut. Based on the heavy AK-47 rally, the Intel had been off by a few in their count. Lewis and Ross raced outside to even the odds.
Aiden grabbed the doctor and threw himself over him, protecting him from the close barrage which was blowing holes in the walls and showering them with chunks of mud. Amid the deafening chaos, Aiden quietly directed his voice to the shaking man underneath him. "We're going to get you out of here. Are you able to walk?"
Dr. Wilson's body continued to tremble underneath Aiden, but his voice was calm. "Yes, yes, I'm okay."
Aiden focused on the front door from the ground, his rifle positioned to take out anyone who entered, waiting for his team to report that the perimeter and the rear had been secured. The silence reverberated in his ears now the gunfire had ceased.
Receiving the all-clear, Aiden assisted the doctor, extending a hand to lift him off the sand floor. The small, bespectacled man brushed off his dark pants, and wiped away the blood dripping from his nose, and pushed his glasses back up. Doctor Wilson's light eyes inspected Aiden earnestly. "I'm fine, but you must find the children."
For the first time since the beginning of this operation, Aiden's adrenaline surged and his steady heartbeat sped up into double time. There had been no Intel on children. "What children?"
"My translator's two sons."
Aiden should've known this snatch-and-grab wasn't going to be easy as he had been promised. Nothing was ever easy in this stark, dusty, dispirited country.
"Where are they?"
"I'm not sure." The doctor shook his head. "They were in the car when we were taken."
"Where are your driver and translator?"
"They killed my driver, but I don't know about the children or their father."
Aiden spoke into his mike to the SEALs. "Jenkins, did you hear that? You and Parker search the back for the two children. Once my package is on his way, I'll join you."
The doctor put his hand on Aiden's arm. "I will help you find the children. They are very young and must be terrified."
The chopper was on its way, but it would be at least a ten-minute walk from the hut and, although Aiden admired the doctor's courage, the man was shaking, one eye was swollen shut, his nose was still bleeding, and his lip was split open and oozing blood.
"Sir, you need to go with my men to the helicopter. I won't leave the children."
Aiden nodded to Lewis and Ross, who had come back into the hut. "Take him to our rendezvous point. The SEALs and I will bring the children."
Aiden circled the hut and found a small alley directly behind the building, a rocky path ending at a smaller hut with the same dome-shaped roof. He swallowed hard against the rage-induced bile experience had taught him to expect. The children, who had no social media value, were most likely already dead.
Finn Jenkins, a cocky but skilled SEAL, walked toward him. "I've heard movement in the hut. It could be a trap."
Aiden stopped and listened. Had he heard a soft muffle?
"I can handle this, sir." Jenkins whispered and starting moving to the door.
Aiden shook his head. "Not necessary. Follow me. And, Parker, circle around the back."
Aiden took a slow, deep breath to clear his head of the flashes of the many—too many to forget—scenes of unspeakable cruelty he'd witnessed. Soldiers risked capture and torture every day. But seeing children tortured and murdered affected even the most hardened, experienced men, and he was one hardened bastard.
With his AR-15 poised to fire, he opened the door slowly, doing an immediate visual of the dimly-lit space. Mats were scattered on the floor where the guards must have rested. Two boys huddled in the corner, their hands and feet tied together and hitched to a post. Alive. A small ray of sunshine in this skewed world where children and women's lives were considered expendable.
A still man lay at the children's feet, immobile, possibly unconscious. Aiden's heart pumped hard and his breath stalled.
Did the sick bastards plan to use the children to lure them into a trap? The Taliban wasn't against booby-trapping their victims as bombs. With Jenkins behind him, Aiden signaled to cover him while he approached.
Moving deeper in to the dark hut, Aiden spoke in Pashto. "We are here to help. We won't hurt you."
Keeping his rifle pointed at the man on the floor, he walked slowly toward the children. "I'm here to take you home. You don't have to be afraid."
In his heavy armor and night-vision goggles, and his over six and half foot size, he must have looked like a monster out of a child's worst nightmare. He'd been told often enough that was one scary-looking dude—great for intimidating the enemy and unintentionally traumatizing the entire civilian population of Afghanistan.
The bigger of the two boys spoke in English. "Don't hurt our father. He's…"
"Your father?" Aiden focused on the man on the floor. "This is your father?"
"They beat him until he stopped talking."
A plaintive cry from the smaller boy, "Is he going to die?"
Aiden looked down on the thin man who didn't have any obvious evidence of a wired vest underneath his filthy robe. His swollen eyes were closed and his mouth hung open.
Aiden did a quick inspection of the terrified children. Both trembled, from both fear and the cold, since they were wearing only thin robes, and the room was frigid in the early morning hours. "Did they hurt you, too?"
"No, they made us watch them beat our father to show us what would happen if we help Americans." His high-pitched voice quivered and tears rolled down his dirt-streaked face.
Aiden heard Jenkins mutter as he moved closer with his rifle pointed still on the probably-unconscious man on the floor, "Wish I had a chance to shoot all the fuckers."
Aiden kneeled down, shoved his night goggles to the top of his head, and untied the boys' hands and feet, while Jenkins bent over the father to assess his status. He didn't need to remind Jenkins that the jihadist didn't follow the Geneva Convention of humane treatment, and might have rigged the father with explosives to blow them sky-high to the promised paradise of Jannah.
Jenkins looked up at Aiden with a shit-eating grin. "I can die a happy man. I've been on a mission with Delta." Then gingerly opened the front of the man's robes
Aiden released the breath he hadn't realized he had been holding when the unconscious man was clear. No devices, only major bruising and contusions on his chest.
To distract the children from their father's injuries, Aiden spoke in a soft, re-assuring voice, "We're going to make sure you and your father get home safe." The older rubbed his wrists where he had been bound, than ran his hands up and down his scrawny arms to warm himself.
This wasn't what he had signed up for when he had been inspired to fight Al Qaeda after 911.
Aiden pulled two Snickers bars from his jacket. Sometimes you needed good old American comforts to get through the shit storm of fighting bad guys. "You eat candy?"
The oldest watched Aiden warily. His younger brother's lower lip wobbled, but his eyes widened in anticipation.
Aiden handed his secret stash to the boys. Tearing away the wrapper, the younger stuffed half the candy bar into his mouth. A boy after his own heart. Why take the time to chew?
The older boy examined the candy bar carefully before he took a large bite.
Jenkins stood after his exam. "He's unconscious from the beating, but I find no obvious signs of bleeding. We need to get him to the chopper."
"Then let's get out of here." Aiden nodded at Jenkins.
Parker, who'd been guarding the entrance, stepped in. "Sir, do you want me to carry the boys or walk point?"
When Jenkins lifted the father into his arms, the man gave out an agonized moan. Both boys jumped up and ran next to their father. The younger grabbed a hold of his father's limp arm and pleaded in his high-pitched voice, "Father, wake up."
Aiden leaned down to reassure the boys. "We're going to take good care of him and both of you. We're going to take you home in a helicopter." Aiden pointed to Parker. "Take them to the bird."
The oldest shook his head defiantly. "I don't need to be carried. I'm eleven years old, but my brother needs help. He is only seven."
His brother's lower lip went out again. "I'm almost eight."
Aiden nodded to Parker, who leaned down and lifted the slight boy into his enormous arms. "Works for me."
Aiden had a sudden need to get the hell out of the hut. The little hairs on his neck lifted and his gut tightened. Aiden didn't question his pressing need. He had learned many times over to trust his well-honed sixth sense.  "Let's get out of here."
Aiden, hyper-alert with the sudden and unexpected adrenaline burst, walked out first and searched the area before signaling the men to move out with their victims. He scanned the hills above him and the area ahead. The older boy kept close to Jenkins, who carried his father. He heard the laughter of the younger boy in Parker's arms when they cleared the alley and the first hut.
Aiden couldn't shake the heightened sense of impending danger running up and down his spine, the same damn sensation he always got jumping out of a Blackhawk at 14,000 feet into total darkness and the dangerous unknown. He looked up at the hillside and again scanned the path ahead. Nothing. He closed the door, ready to move.
The deafening explosion was immediate, catapulting him like a Stinger missile into the air. He had only a moment to hope his enormous bulk would help protect the children from the scorching heat and pain that flashed through him, separating his mind from his body.
***
A dark voice thundered through his head. "You're one big son of a bitch. Just my luck get stuck rescuing the biggest Delta sucker."
The word "rescue" shot alertness into Aiden's numb brain with the impact of a frag grenade. Aiden tried to hoist himself up off his stomach to assess the damage to his team, but he was immobile under a pile of sand, rocks and rubble. He spit the grit out of his mouth while he wiggled his hands and feet. Everything was moving and still attached.
His head felt ready to split in two, and his back had been trampled by a herd of elephants. With each reverberating word from the dark voice outside the rubble, and with each excruciating movement, he concentrated on assessing the extent of his injuries and the need to get to the bird.
"Don't move, sir. I'm working on getting you out from under these rocks."
As if he could move. "Jenkins?" Aiden's voice boomed in his head like Black Sabbath at full volume.
"None other." And then Jenkins muttered under his breath again about his bad luck and Aiden being the size of a humpback whale.
Aiden shook the dust from his muddled brain. "The children?"
"Parker carried them and the father to the bird. Sir, can you tell if anything is broken?"
"Nothing is broken. Just get the damn rocks off my back." Aiden said nothing about the crushing pain and the weight keeping his breath shallow, jagged and labored. Nothing broken—except for a few ribs. Since he could move his feet and hands, no spinal injury. Possible concussion based on the heavy metal beat pounding in his head and the double vision.
"Are you going to be able to walk to the bird? Cuz you're going to owe me if I have to carry your big Delta ass over this terrain."
If his head weren't pounding out of the top of his head like an exploding RPG, he'd find the situation hilarious. Jenkins wasn't exaggerating. Aiden was the largest man in Delta. His six foot six inches size was both noticeable and memorable, and almost got him shut out of Delta, since his conspicuous "presence" was a major deterrent to blending into enemy territory.
Even though his head and ribs felt as if they were cracking apart, a laugh burst out of him. "As I've always maintained, SEALs aren't trained for ground operations." He'd never admit that SEALs had easily matched his Delta team's pace during the four-hour trek over the cold, mountainous terrain to get to this isolated valley.
"What the fuck would you call hauling rocks and saving the Delta unit's commander?" Jenkins was breathless from the exertion of dislodging the last rock off Aiden's back.
"And I thought the SEAL's motto of 'yesterday was the only good day' would help you buck up."
Jenkins snorted "Yesterday I didn't think I'd be carrying your sorry ass."
"You're a jackass, Jenkins. I knew I liked you."
"Likewise, sir. And don't think I won't be expecting payback."
COMING 2017!
Do you know how to read music? If so, take a look at this and tell me if you notice anything unusual about it.

This is known as the BACH motif, which is an example of musical cryptography, a coded system used to create musical note sequences for names or other messages in musical compositions.
I have been intrigued by the idea of using musical scores and passages to encrypt messages for some time and thought it was a great concept for my Code Breakers Regency romantic suspense series. It provided inspiration for my current project, book 4 in the Code Breakers series, CANTATA OF LOVE.
Part of my fascination with this method of ciphering stems from my love of music. I've studied both voice and piano–mainly jazz– and I appreciate the mathematical complexity of music. Coding a message into a song's musical score or the song lyrics requires a great deal of creativity and presented a tremendous challenge as I plotted the story. While researching period opera singers, such as Mrs. Elizabeth Billington, I discovered that operas were written for singers to show off their voices and allowed for improvisation. That would certainly have made it easy for musicians and performers to send coded messages to specific individuals!
Early examples of musical cryptography include Baroque composers who wove their names or the names of significant individuals into musical selections. The application found popularity with those engaging in espionage, due to the difficulty in breaking musical codes. Other examples of musical coding can be found in the songs of American slaves. Negro spirituals provided a means of communication for those who wanted to escape slavery; references to "going home" or "bound for Canaan" didn't signify death and heaven but heading north to Canada and freedom.
In 2013, International Science Times featured a story that suggested a musical score written by composer Gottfried Federlein contained annotations that secretly documented the location of buried Nazi treasure.
One online website reports a number of "creepy spy radio transmissions" that feature suspected musical clues and/or codes broadcast over shortwave radios. This practice began around the time of WWI and continues today.
A special thank you to my friend and music composer Greg Bartholomew, who shared his expertise with me on this topic. Here is one of his compositions, Baby Blue Roses. When Daisies Pied is an example of a piece of music ladies would have sung during the Regency period.
Are there any songs you believe contain a hidden message?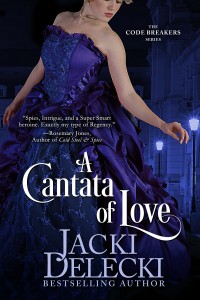 A Cantata of Love, Book 4 in The Code Breakers Regency Romantic Suspense series, releases June 28th. You can pre-order on iBooks.
Napoleonic France is no place for an Englishman, especially Michael Harcourt, the Earl of Kendal, who is on a clandestine assignment for the Crown. Already injured and facing imminent discovery by Napoleon and Fouche's men, Michael finds his escape made even more perilous when he is charged with the safety of a young boy who must be spirited out of Paris.
Desperate to escape the terrible fate that awaits her if she remains in France, Lady Gabrielle De Valmont must disguise herself as a boy and rely on the cunning of a virtual stranger—an Englishman, no less—to smuggle her out of the country. When the Earl's injury becomes severely infected, rendering him gravely ill, Gabrielle realizes it is now up to her to save them both.
Well, it's official. Now that Halloween is over, retailers and advertisers have launched their winter holiday promotional push. For the next 60 days, expect to be bombarded with red and green, silver and gold, Santa and elves, gilt and gift wrap.
There are many cliches associated with the holiday season. Like every other writer, however, I have been taught from Day One to avoid cliches. Fortunately that was easy to do with the upcoming box featuring my recent release, MARRIAGE UNDER FIRE, with more than four chapters of new and exclusive content.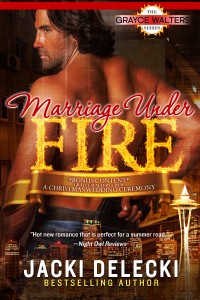 Criminal Christmas, a collection of 8 holiday suspense stories is now available for pre-order for just $0.99 and will be available November 9.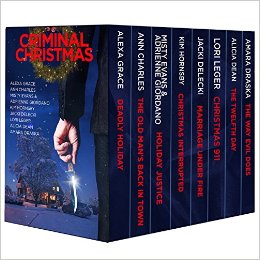 Amazon US | Amazon UK | BN | iBooks | Kobo | Smashwords
Order your copy of Criminal Christmas today for a break from the holiday cliches and chaos. You won't want to miss Maddy and Hunter's romantic holiday wedding, exclusively available with this box set. Merry Criminal Christmas to one and all!