Audiobooks
Category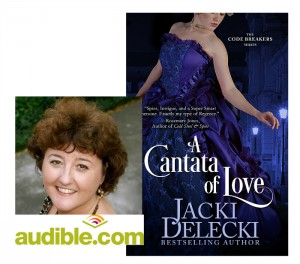 I'm excited to announce that Pearl Hewitt, the talented voice actor who narrated the other three titles in the Code Breakers series, will also narrate Michael and Gabrielle's story. A Cantata of Love will be available on audio in mid-September. Click HERE for an audio sample.
To celebrate this addition to the Code Breakers audiobook series, I'm giving away three sets to three lucky winners. Enter the Triple Play Giveaway by vising me on Facebook and simply Liking, Sharing or Comment on my post.
#amlistening #amreading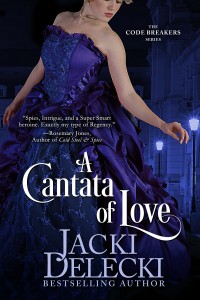 Here's a sample of the heart-pounding adventure, international intrigue and sizzling romance coming June 14, 2016, with the release of A Cantata of Love, book 4 in The Code Breakers series.
1803 ~ In the seaside town of Berck, France
Gabrielle De Valmont brushed back Lord Kendall's blond curls and applied the wet cloth to his burning brow. His long golden curls and eyelashes accentuated his bright red cheekbones. In their days of hard travel from Paris, the Earl's gunshot wound had festered into a nasty infection.
At this moment, he rested. For days, when the fever spiked, he thrashed about, calling out about sending a code book to a woman named "Henrietta."
Desperate to soothe him, Gabrielle discovered that he would calm with the French songs of her childhood.
She was exhausted from the strain of caring for the Earl and from the constant fear that they might be captured and forced to return to Paris.
They couldn't hide much longer without being discovered by Napoleon's or Fouche's henchmen. When the Earl's condition had worsened to the point he could no longer travel, Gabrielle had brought them to her former nanny's tiny village of Berck, south of Calais. They made their arrival into the village under cover of darkness to avoid alerting the citizens.
For eight long days and nights, she had cared for the feverish Earl. Their presence in the tiny town couldn't be kept secret much longer. They must leave Berck and France soon.
But how could they flee with the French soldiers on high alert, inspecting every boat crossing the English Channel?
Monsieur Denby, Lord Kendall's valet, had assured her that he had a plan to divert their attention.
Exhausted and despondent, she beseeched the Blessed Virgin for their safe escape and the Earl's recovery.
She also prayed that the Earl would forgive her and Mother Therese for their deception. She had to have believe that Lord Kendall would never abandon her to her terrible fate.
***
Pre-order A Cantata of Love exclusively from iBooks to be the first to read my new release.
A CANTATA OF LOVE
Napoleonic France is no place for an Englishman, especially Michael Harcourt, the Earl of Kendal, who is on a clandestine assignment for the Crown. Already injured and facing imminent discovery by Napoleon and Fouche's men, Michael finds his escape made even more perilous when he is charged with the safety of a young boy who must be spirited out of Paris.

Desperate to escape the terrible fate that awaits her if she remains in France, Lady Gabrielle De Valmont must disguise herself as a boy and rely on the cunning of a virtual stranger—an Englishman, no less—to smuggle her out of the country. When the Earl's injury becomes severely infected, rendering him gravely ill, Gabrielle realizes it is now up to her to save them both.
You can enjoy the rest of The Code Breakers series on audio, narrated by Pearl Hewitt. Click the cover to listen to an audio sample. Available at Audible.com, iTunes and Amazon.
April is blooming with all kinds of giveaways from authors, including the $3,000 Big Romance Author Spring Giveaway I am participating in. The goal is to connect readers with new authors, and I'm pleased that a few people have taken time to send me a friendly email or comment on my social media.
Spring Fling Audio is another multi-author giveaway I'm part of. All month long, romance authors are giving away audiobooks. Some have daily winners, some have weekly winners and some are doing "flash" giveaways. I'll be posting a chance to win every Wednesday on my Facebook page. Just look for this graphic: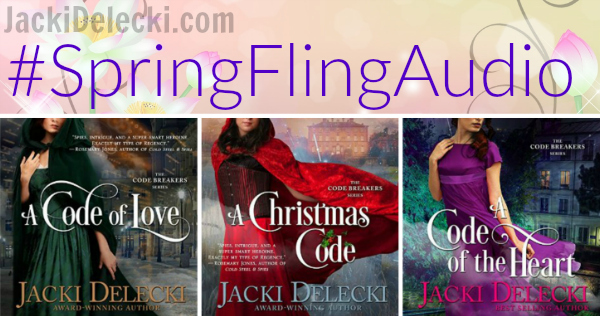 If you search #SpringFlingAudio on Facebook and Twitter, you can find other authors who are also giving away audiobooks. I can't even begin to calculate how many chances you have to win! If you haven't tried out audiobooks yet, they are available on Amazon, iTunes and Audible. You can listen on your computer, tablet, iPod or cell phone, thanks to free apps you can download.
Good luck and happy springtime!
Audiobook fans can now enjoy A CHRISTMAS CODE, Book 2 of the Code Breakers series. Narrated by Pearl Hewitt, this title joins the other two books in the series on audio.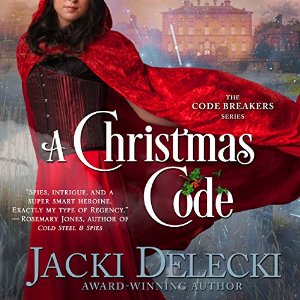 Enjoy an audio sample HERE.
Click on the book titles to purchase at Audible today!
If you would enjoy receiving a free download of this new audiobook release in exchange for an honest review, please contact my assistant Maria Connor at myauthorconcierge@gmail.com.
Last weekend was the Emerald City Writers Conference and Passport to Romance Reader Appreciation Event. Audiobook narrator Pearl Hewitt shares a few highlights.
I had the opportunity to meet many readers and some very enthusiastic audiobook listeners at the Passport to Romance Reader Appreciation Event. It was a very successful evening of laughter, chatter and giveaways. Everyone seemed to have a great time.

The presentation on how to Successfully Create an Audiobook went very well although it was a little rushed toward the end because the volume of information is large and many questions were asked by interested authors who seriously want to move into the audiobook minefield. I was happy to help get the word out and encouraged authors to branch out into the audiobook world and take advantage of this extra income source.
Thanks, Pearl, for sharing your experience with my readers!