Animals
Category
Keep your Fourth festive (and your summer sunny) by implementing these strategies to keep pets safe and healthy. It is especially important to consider the welfare of your pets during Fourth of July celebrations because many are terrified of fireworks and loud noises.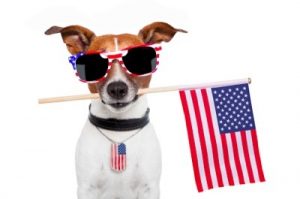 Keep pets indoors.
Use only pet-specific products such as bug repellant and sunscreen.
Prevent pets from drinking alcohol, which can poison them.
Outfit pets with ID tags and/or microchip. Keep a clear, current picture of your pet in case they get lost.
Do not use fireworks around pets.
Keep harmful chemicals such as lighter fluid and citronella products away from pets.
Don't give pets table food. Many human foods are hazardous to animals.
Supervise children around pets who may be agitated or frightened by loud noises. Additionally, make sure children do not inadvertently leave behind toys, such as glow sticks, which dogs may chew and ingest.
Secure your pet in a safe, quiet, comfortable area at home while you enjoy fireworks and celebrations.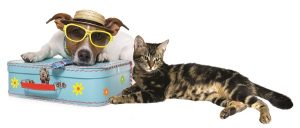 If traveling with your pet, bring health/vaccination certificates. Check any requirements if you are traveling internationally or flying.
Plan ahead to find pet-friendly hotels.
Install pet restraints, pet barriers or use a travel crate in your vehicle to avoid your pet being injured in an accident or distracting the driver.
Pack pet gear for your road trip: water bowl, toys, dog food, leash, grooming supplies and pet first-aid kit.
Never leave pets alone in an unattended vehicle, especially in hot weather.
Know the signs of heat stroke (rapid panting, bright red tongue, thick sticky saliva, weakness, vomiting, diarrhea) and proper treatment.
Share your pet safety tip!
I love dogs. They are noble and heroic and worthy of being included in my romantic suspense stories. For many years, Gus and Talley, my two Golden Labs, were my constant companions; they inspired me to include four-legged characters in my books because of the unique relationships people and animals share.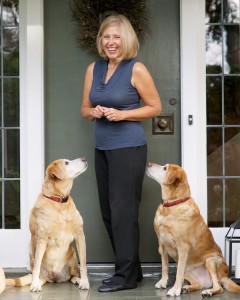 When I was researching topics for today's blog, I came across a website for an impressive canine–Surf Dog Ricochet (or Ricki, as she is called). The achievements of this very special SURFice dog® highlight the endearing qualities of all service dogs: loyalty, personality, dedication, steadfastness, comfort and unconditional love.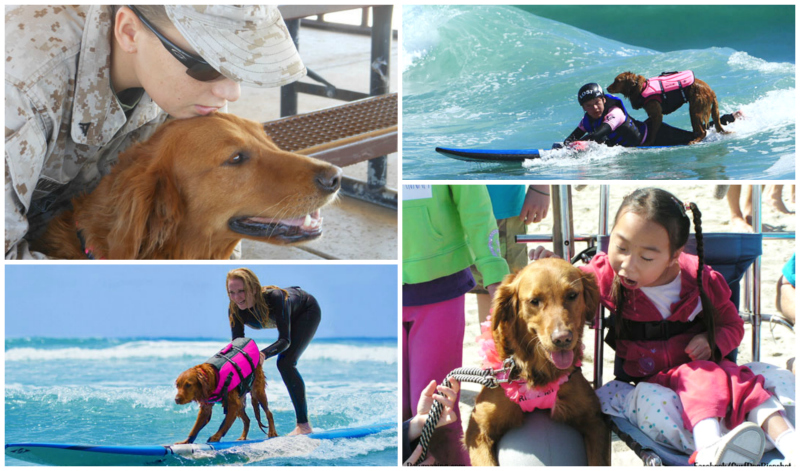 After "flunking out" of training as a service animal, Ricki's owner wasn't sure what to do with the puppy.  She enjoyed surfing and, at fifteen months, took third place in the Purina Incredible Dog Challenge surf competition. Ricki's knack for surfing created a unique opportunity for her to work with special needs kids and peoples with disabilities on the water.
One of Ricki's other talents is her ability to detect stress and anxiety in people. This is one reason therapy dogs are being used to treat service members with PTSD and children with autism. Read more on this on Ricochet's website.
Over the course of Ricki's career as a therapy dog and philanthropist, she has raised almost $500,000 for various causes, won top dog awards and become a media star. You can read her story in Ricochet: Riding a Wave of Hope with the Dog Who Inspires Millions and catch her in Super Power Dogs, which comes out in 2018.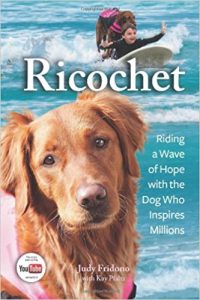 Part of what is most inspiring about Ricki's story is that her "pawsome" success as a surf therapy dog was not intentional. That's a wonderful reminder that when life doesn't go as planned or we fall short of our goals, there is still the potential to become or experience or achieve something amazing.
See Ricki's incredible photos and learn more at her website: www.surfdogricochet.com.
Photos of Ricochet used with permission.
Save
Save
Save
Save
Friday, November 11, is Veterans Day. This national holiday is dedicated to honoring veterans of the armed services (Army, Navy, Marine Corps, Air Force, National Guard, and Coast Guard) who served to protect our country.
Did you know Veterans Day originated from Armistice Day, a holiday enacted in recognition of WW I soldiers? Click HERE to read more about the history of Veterans Day.
In addition to honoring the men and women who have served, I like to acknowledge the contributions of canine service members. I'm not the only American in awe of "war dogs."  There are several organizations dedicated to honoring and assisting active and retired military dogs.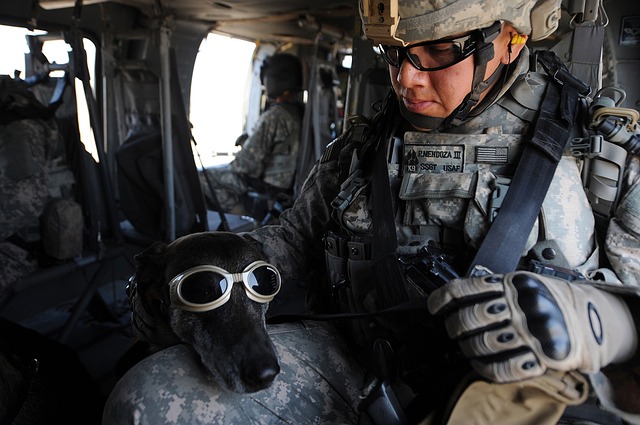 The United States War Dogs Association – features war dog history, information about the U.S. War Dogs Memorial, and how to participate with this organization.
Save a Vet – provides adoption and rescue support for military and law enforcement working dogs.
Operation Military Care K9 – collects and distributes care packages to military working dogs and their handlers.
Kevlar for K9s – works to provide bulletproof vests for working canines.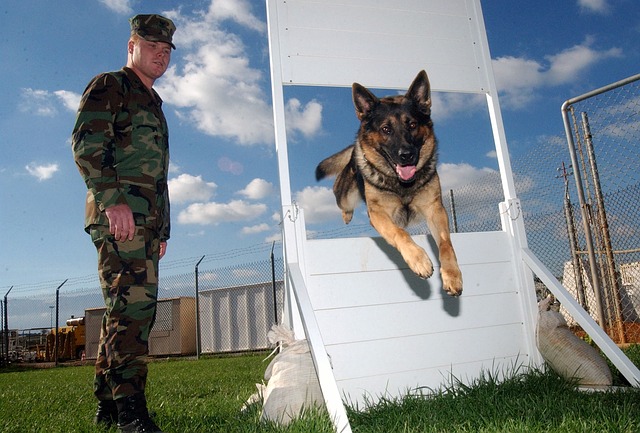 If you would like more stories or information about military working dogs, check out these sites or click HERE for a full listing of military working dog organizations/resources.
10 Things You Might Not Know About Soldier Dogs
Dogs of War: 23 Facts You Never Knew About Military Working Dogs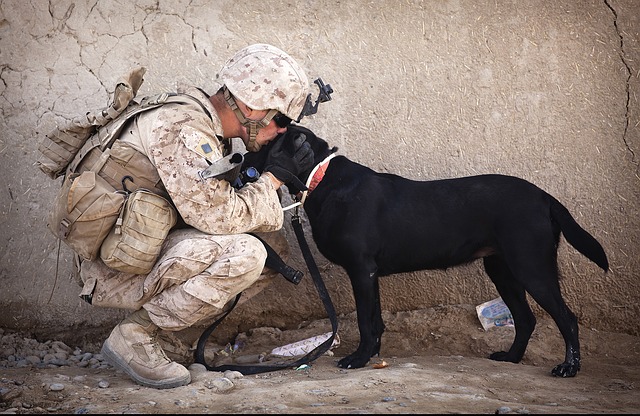 As an author, I've incorporated my passion, respect and enthusiasm for working military dogs into my contemporary romantic suspense fiction. Sergeant Nick Welby and his bomb-sniffing golden lab are leading characters in Men Under Fire, Book 3 in the Grayce Walters series.
This book is one of more than 60 titles featured in the Military Romance Book Giveaway, which includes a Kindle Fire. If you're a fan of military heroes and heroines, be sure to enter for a chance to win.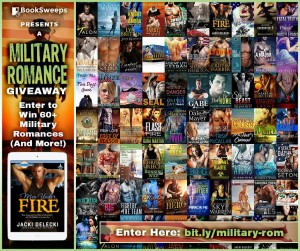 In honor of Veterans Day, I'm giving a way an ebook copy of Men Under Fire. For a chance to win, simply comment on my Veterans Day Facebook post. Here's the link: http://bit.ly/2fD26DI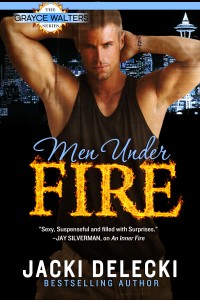 Save
The Dog Days of Summer run from July 3 to August 11 and refer to the sultriest days of summer. Early observers in the Mediterranean region discovered this period coincided with the conjunction of Sirius (the dog star) and the sun.
In honor of the Dog Days of Summer, I'm featuring some of my author friends, their canine companions and a favorite summer read.
Callie Hutton's four-legged friend Daisy. The Highlander's Choice is a Scottish Regency historical.
Gunny, Chris Keniston's pooch pal, is also an aspiring author. If you like contemporary romance with military heroes, check out Aloha Texas.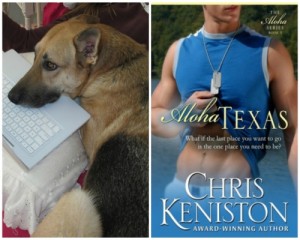 Ava Branson's four-legged friend Cosmo is decidedly more feline than canine. Fiery Seas, a contemporary romance, makes a great beach read.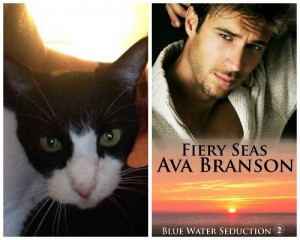 C.B. Williams is bound and determined to fit her Golden Doodle Miki in one of those designer handbags. Champion of Entean is science fiction romance with a splash of fantasy.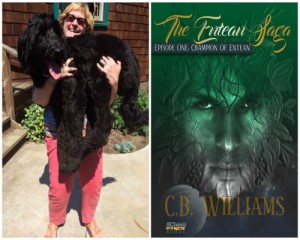 Sugar keeps Teri Riggs company while working on contemporary stories like her recent release, Sunsets and New Beginnings.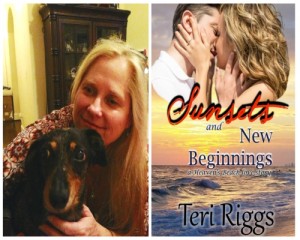 My two Golden Labs, Gus and Talley, provided inspiration for the canine characters in my contemporary romantic suspense books, such as Men Under Fire, from the Grayce Walters series.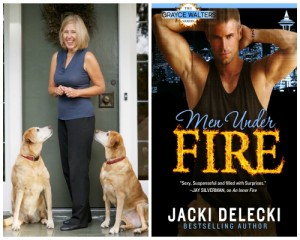 Who's keeping you company during these steamy Dog Days of Summer?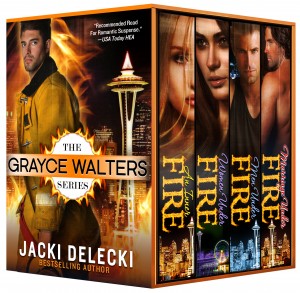 THE GRAYCE WALTERS SERIES: Grayce Walters, intuitive animal acupuncturist, finds herself drawn into danger in the name of protecting her animal clients. One extraordinary woman reluctantly battling evil on the streets of Seattle with an unconventional collection of crime-fighting accomplices: Her heart throb, alpha-macho hunk, Fire Investigator Captain Ewan Davis; her best friend James, a gay cross-dressing, karate master who can take bad guys down as long as he doesn't ruin his hair; her office assistant Hollie, a street wise girl gamer; and Mitzi, a black standard poodle who's anything but standard.
This four-book anthology from bestselling romantic suspense author Jacki Delecki includes:
An Inner Fire
Women Under Fire
Men Under Fire
Marriage Under Fire