A Code of the Heart
Category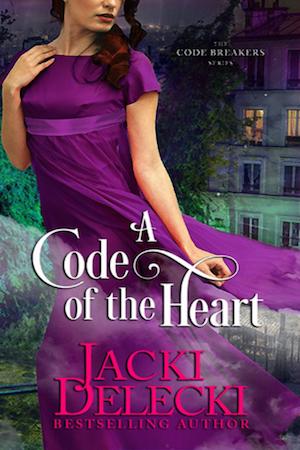 Amelia didn't share Gwyneth's amusement. She wanted to believe that Lord Brinsley cared about her, but who could rely on the opinion of a blissful bride? She wished she wasn't lying in bed like an invalid with her tangled hair and a bandage wrapped around her head, but Gwyneth was adamant she had to remain recumbent. Doctor's orders.
Gwyneth opened the door with the sound of the footman's tap and waved in the visitor.
"Brinsley. Please come and see for yourself that the patient is doing fine."
Gwyneth waited at the door, as Lord Brinsley entered. His brown, curly hair was tousled; his shirt and cravat were stained with blood. His eyes were dark and sunken with anxiety.
Amelia had been unaware of the tenderness she felt for him until now; she wanted to hold him, to comfort him, but she didn't dare.
"Thank you, Lady Gwyneth." Brinsley's voice and manner were much subdued.
Gwyneth curtsied to the gentleman and left the room, closing the door behind her.
Amelia clenched her hands on the damask coverlet. She'd be scolding Gwyneth for this newest attempt at matchmaking. Gwyneth's maid was in the dressing room a few yards away, but Gwyneth had left her alone with Lord Brinsley.
He edged closer to the bed, scrutinizing her face, noting details of the bandage and the facial swelling.
"Miss Amelia, are you comfortable?" His voice was hoarse with emotion.
She tried to lighten his serious mood. "My injury doesn't warrant bed rest, but Lady Gwyneth and the doctor were quite fearsome."
"Of course, you must rest. You lost a great deal of blood, and you're quite pale."
"I doubt greatly that I'm pale. This is my normal skin color. I suspect you look worse than I do." There was purple bruising below his eye, covering his strong cheekbone almost back to his ear. "I stopped a ball, but by the looks of it, you stopped a very large fist. We make quite a pair; now we're matching." She teased, but the gorgeous man stared at her as if she were on her deathbed.
He stepped closer and she got a whiff of his scent—lime and male muskiness. "I'm truly sorry. This was my fault. If I had stayed quiet, you wouldn't be injured."
The way he looked at her, with such concern and care, she couldn't look away. Butterflies danced a fast tempo in her stomach. She was captured again in his all-consuming stare.
Stunned by his abrupt manner, and his obvious rejection, Amelia stood in shock and watc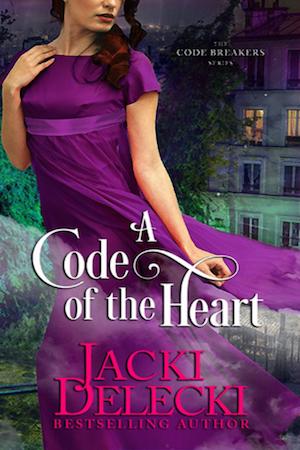 hed Derrick walk away. What a striking figure he cut in his formal clothes. In black and white, he looked formidable and aloof, and more appealing. But she knew his soft and caring side, and she would've chosen a waistcoat with spring colors of gold or green for him.
All the young debutantes and married women watched him make his way with his forceful stride across the crowded ballroom.
Her feelings were reeling. Why had he treated her so cold and distant? She had gotten use to his intense stares and his enticing smiles. He seemed to be both hurt and angry. Aunt Euphemia had referred to better times.
Whatever had distressed him, he showed no inclination to talk to her. And what had he said to her after Aunt Euphemia left? "Congratulations…" Awareness dawned. He had witnessed Michael and her together and concluded that she still cared about Michael. Was that the reason for his hasty departure and his rejection of her?
She needed to talk with him, explain that she was finally clear about her feelings for Michael. But how could she explain to the foolish man when he wasn't going to listen? She had to find a way to make him listen. She also needed his help in rescuing Elodie.
She'd wait for a
break after his dance with Lady Rowley. Why had his aunt arranged for him to dance with the flirtatious widow? Derrick didn't seem to mind the crude cut of the dress or the way her wobbly breasts jiggled. In fact, his eyes hadn't left Lady Rowley's very voluptuous bosom the entire time they danced.
Her face burned to watch his obvious attraction and the woman's blatant flirtation. The lady had feigned ignorance of the turn in the dance, allowing herself to bump against him, so he had to catch her from stumbling, affording him a perfect view down her dress. Derrick smiled at the lady in appreciation. Jealousy and anger formed a molten mix of hurt.
Just then Derrick looked up at her, as if he knew she was blazing with jealousy. He gave her a cold smile, filled with a grim satisfaction. The look scalded her. Why was he angry with her? He was the one flaunting himself with Lady Rowley.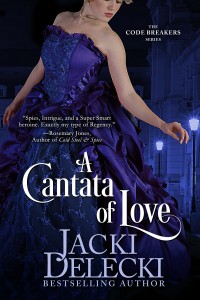 Here's a sample of the heart-pounding adventure, international intrigue and sizzling romance coming June 14, 2016, with the release of A Cantata of Love, book 4 in The Code Breakers series.
1803 ~ In the seaside town of Berck, France
Gabrielle De Valmont brushed back Lord Kendall's blond curls and applied the wet cloth to his burning brow. His long golden curls and eyelashes accentuated his bright red cheekbones. In their days of hard travel from Paris, the Earl's gunshot wound had festered into a nasty infection.
At this moment, he rested. For days, when the fever spiked, he thrashed about, calling out about sending a code book to a woman named "Henrietta."
Desperate to soothe him, Gabrielle discovered that he would calm with the French songs of her childhood.
She was exhausted from the strain of caring for the Earl and from the constant fear that they might be captured and forced to return to Paris.
They couldn't hide much longer without being discovered by Napoleon's or Fouche's henchmen. When the Earl's condition had worsened to the point he could no longer travel, Gabrielle had brought them to her former nanny's tiny village of Berck, south of Calais. They made their arrival into the village under cover of darkness to avoid alerting the citizens.
For eight long days and nights, she had cared for the feverish Earl. Their presence in the tiny town couldn't be kept secret much longer. They must leave Berck and France soon.
But how could they flee with the French soldiers on high alert, inspecting every boat crossing the English Channel?
Monsieur Denby, Lord Kendall's valet, had assured her that he had a plan to divert their attention.
Exhausted and despondent, she beseeched the Blessed Virgin for their safe escape and the Earl's recovery.
She also prayed that the Earl would forgive her and Mother Therese for their deception. She had to have believe that Lord Kendall would never abandon her to her terrible fate.
***
Pre-order A Cantata of Love exclusively from iBooks to be the first to read my new release.
A CANTATA OF LOVE
Napoleonic France is no place for an Englishman, especially Michael Harcourt, the Earl of Kendal, who is on a clandestine assignment for the Crown. Already injured and facing imminent discovery by Napoleon and Fouche's men, Michael finds his escape made even more perilous when he is charged with the safety of a young boy who must be spirited out of Paris.

Desperate to escape the terrible fate that awaits her if she remains in France, Lady Gabrielle De Valmont must disguise herself as a boy and rely on the cunning of a virtual stranger—an Englishman, no less—to smuggle her out of the country. When the Earl's injury becomes severely infected, rendering him gravely ill, Gabrielle realizes it is now up to her to save them both.
You can enjoy the rest of The Code Breakers series on audio, narrated by Pearl Hewitt. Click the cover to listen to an audio sample. Available at Audible.com, iTunes and Amazon.
My name is Maria Connor, of My Author Concierge, and I am Jacki's assistant. Jacki invited me to write a guest blog on our recent experience in creating the book trailer for her new audiobook release, A CODE OF THE HEART.
There are many services available that will create book trailers, but in reality, these video teasers aren't that difficult to put together and it's fun to occasionally venture into a different creative sphere. Assembling visual and audio elements requires a different perspective than working with words, but it is no less rewarding.
Join me now for a behind-the-scenes look at creating book trailers.
Developing a book trailer starts with a script. This can be the book cover copy (also called the book blurb or book summary), an excerpt from the book, or something entirely different. For A CODE OF THE HEART, we used a brief excerpt that reflected the storyline, plus the tag line for the Code Breakers series. The script can either be narrated or added as text.
The next step in the process is to assemble the graphic and audio components. This can be a challenge, as you must comply with copyright laws. You must have permission or be authorized to use the content in your trailer. To avoid any problems, I either use images owned by myself or the author, or stock art/music I have purchased. You can also use material under a Creative Commons license.
Finding licensed images for Regency romance can sometimes be a challenge. One of the images we considered using for this book trailer was discarded when we realized the male model–posed in a classic historical romance cover embrace–was wearing a gold chain necklace. We didn't want any readers complaining about the historical inaccuracy of such an image so we selected a different graphic. Another way to solve the problem of limited Regency England images is to look for photos that reflect the story elements without specifically portraying them. For example, in this book trailer, the "spilled" tea cup represents the poisoning, danger and betrayal incidents in the story, while the British flag was selected to signify the intrigue and danger to the British monarch.
I use Windows Movie Maker to assemble the audio and video elements into a finished product. For the audio "mixing," I use Audacity, a user-friendly program that is essentially just cutting and pasting portions of sound tracks together.
A Code of the Heart Book Trailer from Jacki Delecki on Vimeo.
For a sample of Jacki's new audiobook, listen HERE.
I hope you enjoy our creative efforts and that we've made you curious to learn more about Jacki's Regency romantic suspense! If you'd like more information about Jacki's audiobooks, you can find A CODE OF LOVE and A CODE OF THE HEART on Audible, Amazon and iTunes.
I don't like to make generalizations but it seems like many historical novels focus on the goals, motivation and conflict as it relates to the heroine. A marriage of convenience. A compromised reputation. The orphaned miss who seeks gainful employment. It's important to remember that heroes need goals and motivations too. As authors, we must create emotionally compelling internal and external conflict for both our heroines and heroes.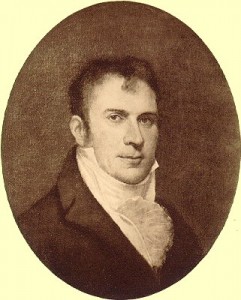 While working on research for my book, A CODE OF THE HEART, I came across some interesting facts about Robert Fulton, an American inventor and engineer who is credited with developing the steamboat. During the course of his life, he traveled around the world, collaborating with other inventors and scientists on naval vessels and weaponry. He designed the first working submarine while in France before switching alliances and moving to England, where he was commissioned to build weapons for the Royal Navy. One of Fulton's "secret weapons" was the torpedo-catamaran, which the British Navy hoped to use to blow French ships out of the water. Like many inventions, the early model had some functionality issues, but I was intrigued by the concept of French-British espionage.
When I began developing my characters for the story, I started wondering what it would take to redeem a disreputable young rake. Perhaps protecting his country by preventing a secret weapon from falling into the wrong hands would work. So that is exactly the challenge I put in front of Lord Derrick Brinsley, as well as the not-so-small matter of proving his worth to the very proper society miss, Amelia Bonnington.
By using the information I discovered during my research, I was able to create strong goals and conflicts for my hero, thus adding dimension to him on the pages of my book. Audiobook narrator Pearl Hewitt has been working with me over the last few weeks to make Derrick "sound" like a Regency hero. The audiobook version of A CODE OF THE HEART is in the final stages of production and will soon be available. I hope you'll listen in and let me know what you think of Derrick and Amelia Bonnington, the heroine of the story.
Click on the audiobook cover for A CODE OF THE HEART to listen to a sample.