A Christmas Code
Category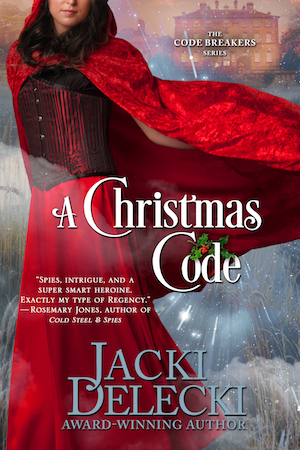 The door to the conservatory squeaked open pouring light into the room. She jumped behind the Palmaceae. Her heart accelerated wildly. She waited, her ears drumming with the silence.
"Gwyneth?"
Ash's whispered voice was a balm to her shattered nerves.
She stepped out from the plant. "Ash, I'm here."
He walked toward her. His strong profile and confident walk made her want to run into his arms, but she controlled the impulse.
"Why are you hiding?" He asked in a teasing tone.
"Why were you late?" She didn't like the idea that he'd found her frightened at their first secret rendezvous.
"Late?" He placed one hand on his hip, his tone sardonic. "I didn't realize I was late."
"Never mind. I'm unsettled after my fall."
He stepped closer to inspect her carefully, his light eyes moving over her body. "Did you trip?"
She wasn't quick to get mad, but she felt the anger slowly moving up her spine. Cord and Ash had tormented her relentlessly about her clumsiness when she was a young girl. "First of all, I didn't trip as you suspect. And I wasn't clumsy as a girl. I always tried to impress you with my daring feats. And I accomplished my deeds despite growing almost as tall as Cord in one year."
Ash snorted, which only added fuel to the burning fire of her displeasure.
"Honey, you're not that tall."
His endearment went a long way in appeasing her. "Did you just see Lady Charolois in the hallway?"
"No. I didn't see anyone."
"She just ran out of the door at the same time someone knocked me down."
"Someone knocked you down?" Ash pulled a pistol from beneath his waistcoat and scanned the room. He moved closer to her. "Are you hurt?"
"I'm fine, just shocked."
"Which way did he go?"
"I'm sure he left through the garden door when I was getting up from the floor."
"Did you recognize him?"
"No. When I was struggling to stand up, I heard the door open and saw Lady Charolois running out of the door."
"Let me take you to your room then I'll come back here to look around." Ash took her by the elbow and led her toward the door.
"I'm not going to my room. I'll go with you." She pulled away from his arm.
He took her arm again and led her to the hallway. "You're not going anywhere, but back to your room. You could've been hurt…"
She looked down the hallway and behind her before she whispered, "I'm fine. You said I could be part of this mission."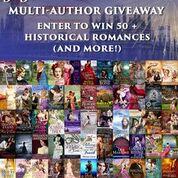 To celebrate July 4th, I've teamed up with more than 50 fantastic authors to give away a huge selection of historical romance novels, PLUS a Kindle Fire to one lucky winner!
I'm giving away my book A Christmas Code.
You can win books from: Andrea Pickens, Anne Gracie, Barbara Devlin, Brenda Hiatt, Bronwen Evans, Collette Cameron, Cynthia Wright, Deb Marlowe, Donna Fletcher, Donna MacMeans, Edith Layton, Glynnis Campbell, Joan Wolf, Joanna Shupe, Julie Johnstone, Kathryn Le Veque, Lauren Royal, Lauren Smith, Linore Burkard, Lynne Barron, Mary Jo Putney, Meara Platt, Nicola Cornick, Patricia Rice, Selena Kitt, Susana Ellis, Suzan Tisdale, Tammy Andresen, Vanessa Kelly, and more!
The Grand Prize winner receives a Kindle Fire and all participating books. Four runner-ups will receive a selection of participating books.
Contest ends July 11.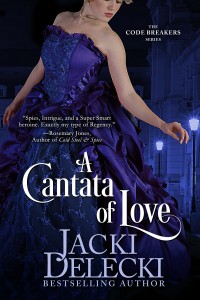 Here's a sample of the heart-pounding adventure, international intrigue and sizzling romance coming June 14, 2016, with the release of A Cantata of Love, book 4 in The Code Breakers series.
1803 ~ In the seaside town of Berck, France
Gabrielle De Valmont brushed back Lord Kendall's blond curls and applied the wet cloth to his burning brow. His long golden curls and eyelashes accentuated his bright red cheekbones. In their days of hard travel from Paris, the Earl's gunshot wound had festered into a nasty infection.
At this moment, he rested. For days, when the fever spiked, he thrashed about, calling out about sending a code book to a woman named "Henrietta."
Desperate to soothe him, Gabrielle discovered that he would calm with the French songs of her childhood.
She was exhausted from the strain of caring for the Earl and from the constant fear that they might be captured and forced to return to Paris.
They couldn't hide much longer without being discovered by Napoleon's or Fouche's henchmen. When the Earl's condition had worsened to the point he could no longer travel, Gabrielle had brought them to her former nanny's tiny village of Berck, south of Calais. They made their arrival into the village under cover of darkness to avoid alerting the citizens.
For eight long days and nights, she had cared for the feverish Earl. Their presence in the tiny town couldn't be kept secret much longer. They must leave Berck and France soon.
But how could they flee with the French soldiers on high alert, inspecting every boat crossing the English Channel?
Monsieur Denby, Lord Kendall's valet, had assured her that he had a plan to divert their attention.
Exhausted and despondent, she beseeched the Blessed Virgin for their safe escape and the Earl's recovery.
She also prayed that the Earl would forgive her and Mother Therese for their deception. She had to have believe that Lord Kendall would never abandon her to her terrible fate.
***
Pre-order A Cantata of Love exclusively from iBooks to be the first to read my new release.
A CANTATA OF LOVE
Napoleonic France is no place for an Englishman, especially Michael Harcourt, the Earl of Kendal, who is on a clandestine assignment for the Crown. Already injured and facing imminent discovery by Napoleon and Fouche's men, Michael finds his escape made even more perilous when he is charged with the safety of a young boy who must be spirited out of Paris.

Desperate to escape the terrible fate that awaits her if she remains in France, Lady Gabrielle De Valmont must disguise herself as a boy and rely on the cunning of a virtual stranger—an Englishman, no less—to smuggle her out of the country. When the Earl's injury becomes severely infected, rendering him gravely ill, Gabrielle realizes it is now up to her to save them both.
You can enjoy the rest of The Code Breakers series on audio, narrated by Pearl Hewitt. Click the cover to listen to an audio sample. Available at Audible.com, iTunes and Amazon.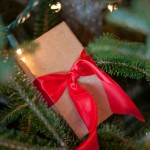 After much anticipation and preparation…the holidays are over. Already? I was just starting to enjoy myself! I don't know about you, but there's a bit of let down when the rolls of red-and-green wrapping paper are tucked back into the closet, the last few sugar cookies have gone stale and the Christmas tree–with its multicolored lights and glittery strands of tinsel–no longer brightens the grey of winter.
Have you ever come across one last gift? Something tucked far back under the tree that was overlooked? No matter what's in the package, the unexpected discovery makes this last present extras special. Well, I have one last gift for my readers!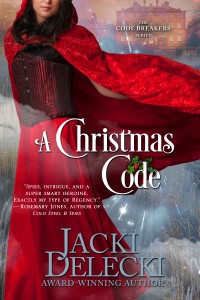 A Christmas Code, book 2 in my Regency romantic suspense story, is FREE for a limited time at most online retailers. (Amazon doesn't have a free pricing option so if you read on a Kindle, contact my assistant at mariaconnor@msn.com to request a mobi version).
Download A Christmas Code today and enjoy the holidays just a bit longer!
BN Nook | iBooks | Kobo | Google Play
Audiobook fans can now enjoy A CHRISTMAS CODE, Book 2 of the Code Breakers series. Narrated by Pearl Hewitt, this title joins the other two books in the series on audio.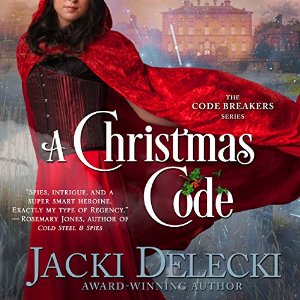 Enjoy an audio sample HERE.
Click on the book titles to purchase at Audible today!
If you would enjoy receiving a free download of this new audiobook release in exchange for an honest review, please contact my assistant Maria Connor at myauthorconcierge@gmail.com.