Bringing a Regency hero to life
I don't like to make generalizations but it seems like many historical novels focus on the goals, motivation and conflict as it relates to the heroine. A marriage of convenience. A compromised reputation. The orphaned miss who seeks gainful employment. It's important to remember that heroes need goals and motivations too. As authors, we must create emotionally compelling internal and external conflict for both our heroines and heroes.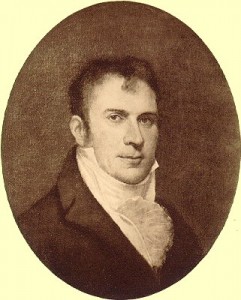 While working on research for my book, A CODE OF THE HEART, I came across some interesting facts about Robert Fulton, an American inventor and engineer who is credited with developing the steamboat. During the course of his life, he traveled around the world, collaborating with other inventors and scientists on naval vessels and weaponry. He designed the first working submarine while in France before switching alliances and moving to England, where he was commissioned to build weapons for the Royal Navy. One of Fulton's "secret weapons" was the torpedo-catamaran, which the British Navy hoped to use to blow French ships out of the water. Like many inventions, the early model had some functionality issues, but I was intrigued by the concept of French-British espionage.
When I began developing my characters for the story, I started wondering what it would take to redeem a disreputable young rake. Perhaps protecting his country by preventing a secret weapon from falling into the wrong hands would work. So that is exactly the challenge I put in front of Lord Derrick Brinsley, as well as the not-so-small matter of proving his worth to the very proper society miss, Amelia Bonnington.
By using the information I discovered during my research, I was able to create strong goals and conflicts for my hero, thus adding dimension to him on the pages of my book. Audiobook narrator Pearl Hewitt has been working with me over the last few weeks to make Derrick "sound" like a Regency hero. The audiobook version of A CODE OF THE HEART is in the final stages of production and will soon be available. I hope you'll listen in and let me know what you think of Derrick and Amelia Bonnington, the heroine of the story.
Click on the audiobook cover for A CODE OF THE HEART to listen to a sample.