Blog
Wow, what a fun month June was, enjoying the fun and curious stilettos entered in the Grayce Walters Best Dressed Heels contest. It was a tough choice, but I'm honored to announce the winning entry came from Patricia Dutko. These lacy stilettos are the creation of shoe designer Vicente Rey, and definitely a pair of Grayce would love to strut her stuff in.
Congratulations, Patricia, and thanks to everyone who joined in the fun!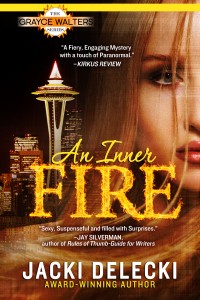 AN INNER FIRE "perfect for a summer read," says Night Owl Romance.
Lisa Jung, a Night Owl Romance reviewer gave AN INNER FIRE a 4-star review, accompanied by this outstanding commentary:
"Debut author Jacki Delecki takes readers into the world of hot firefighters and a vet that reads dogs.
Graycee is a vet who has a practice in acupuncture for dogs. Not only is she a strong modern women she reads animals auras and receives premonitions from her dead sister. One of these paranormal encounters leads her to witness a burning shed and to the attention of Lt. Davis, the fire inspector. Things heat up for Graycee and Davis as they solve a crime and Graycee tries to protect the guy she loves. With a little help from her friends we have a happy romance for all.
An Inner Fire is a hot new romance that is perfect for a summer read. Who doesn't love a strong alpha hero, a damsel and a poodle names Mitz? Davis is the entire typical alpha hero, but he has a sweet side. Graycee is the perfect partner. She's strong, sweet and willing to go the extra miles for the people around her. Also the secondary characters are strong and funny. James, Graycee's best friend, was a jewel.
An Inner Fire had a mystery to solve that kept the story interesting as the story progressing. This is an all-around a great read. I look forward to read Jacki Delecki's next book."
If you haven't yet read AN INNER FIRE, get your copy today!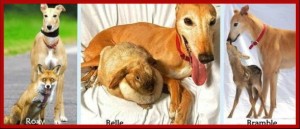 Knowing what a dog lover I am, a friend recently forwarded a story to me about a rescued greyhound named Jasmine. The newspaper account related that Jasmine had been abandoned as a pup and required an extraordinary amount of kindness and patience to recover. This attention was generously provided by caretakers at a wildlife sanctuary, where Jasmine continued living.
Once she regained her health, Jasmine the greyhound began playing nursemaid to other animals brought into the Nuneaton and Warwickshire Wildlife Sanctuary. From 2003 until her death in 2011, Jasmine served as a foster mother of sorts to fox cubs, badger cubs, chicks, guinea pigs, fawns, rabbits and stray puppies.
Before I was three paragraphs into the story, I realized Jasmine and Mitzi, the French poodle in AN INNER FIRE, Book 1 of my Grayce Walters Series, were kindred souls. Mitzi is a nurturing caretaker just like Jasmine, doting and nuzzling everyone who comes into Grayce's office.
I am often inspired by the antics, adoration and intuitive behavior of dogs, but Jasmine and Mitzi are "a breed apart." Share your own story about an amazing dog or animal you've known.
Read AN INNER FIRE and get acquainted with Mitzi and the rest of the cast of characters.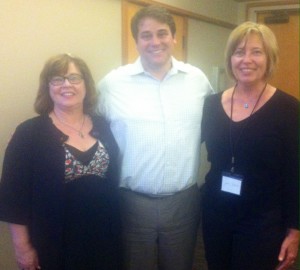 Dan Slater, head of independent publishing at Amazon, was the guest speaker at the June 3rd meeting of Seattle Free Lances. After learning much from this industry expert, I got a picture with him, along with Deb Schneider of the King County Library.
One thing my character Grayce Walters and I have in common is a love of high heels–casual, dressy, classic, trendy. It doesn't matter!
You can get in on the fun this month by posting a picture of your favorite high heels on my Facebook page, which will qualify you for a chance to win a $50 DSW gift card. Enter as often as you wish! The contest will close June 30th, with one winner chosen and announced on July 1st.
I can't wait to see the spectacular selection of high heels this month, but you know what that means…I'm sure to need room in my own closet for a few new pairs!