Authors Give Thanks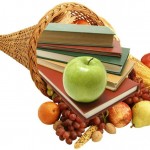 With Thanksgiving just around the corner, I thought it would fun to see what authors are thankful for this year. I asked a few of my writer friends to share what they are grateful for. I hope you'll add your own thoughts to the list.
For what am I thankful? Sunny days, good friends, books, and chocolate. But more seriously, I'm thankful for my family and friends. Without their love, understanding, and support (and hours of talking writing), I would be lost! And I'm thankful for my writing. I started late, but now I can't imagine a day without telling stories. ~ Barbara Bettis, The Heart of the Phoenix
I am thankful for all of those in my life who have taught me to never believe in the word impossible. ~ Kelly Bowen, I've Got My Duke to Keep Me Warm (coming December 16)
What I'm thankful for: I'm profoundly grateful that my mother survived the stroke she suffered in October, and that I've been blessed with a wonderful family and the ability to pursue my passion for writing full-time. ~ Collette Cameron, Triumph and Treasure, Highland Heather Romancing a Scot Series (coming December 3)
I'm thankful for my retirement from the day job, which gives me time and money to write, and for the fellowship and support of my writing friends, and for my family. ~ Gail Hart, Confessions of the World's Oldest Shotgun Bride
I am, as always, most thankful for my wonderful family. This year, I am especially thankful for all the support they have given me en route to the publication of my first book, Lady Elinor's Wicked Adventures. ~ Lillian Marek
I'm grateful that I'm able to create characters and stories. And I'm grateful for all the people who read and are entertained by my stories.~ Jacki Delecki, A Christmas Code
What are you thankful for this year?