A man, a dog...and a woman - Excerpt from 'Men Under Fire'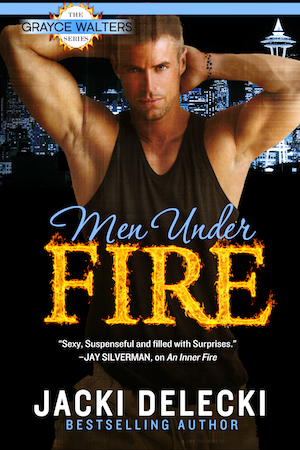 Dr. Walters looked up from her note taking. "I'd like to treat Talley once a week for the next three months. You live in Auburn. Will it be a problem to drive into Seattle?"
"Not a problem, ma'am. I'd do anything for this dog."
She leaned across her desk. "Do you swim, Sergeant?"
"Yes, ma'am." He didn't get what swimming had to do with acupuncture.
"I'd like you and Talley to start swimming in a lake or deep river. It's important you do it together."
"Lake Young is close by our family farm. Talley and I can swim there."
"Water will soothe Talley's ratcheted up nervous system."
Why did he feel as if the doctor wasn't talking just about Talley?
"Don't do any training around the swimming. Talley needs a real break from her work. Her senses, especially her focus and her nose, are working overtime. She'll have a break in the water."
He nodded. "It will be great to swim after our morning runs."
"Sounds like we've got a plan. Let's see how the swimming works." Dr. Walters stood from her desk and walked toward the door. "I can hear that my assistant is back. She'll make your appointment for next week."
Talley woke up with the doctor's movements. With her front paws planted forward, the usually hyper dog stretched her spine and then slowly hoisted herself to follow Dr. Walters. He couldn't explain exactly what had happened, but like Talley, he felt a deep sense of relaxation. For the first time since he had arrived stateside, he could breathe calmly and catch glimpses of the contented man before the war. He and a tranquil Talley followed the doctor to the outer office.
Dr. Walters stopped suddenly in the doorway. A young, curvaceous woman was balanced on a stool, reaching into cupboards, as she sang the painful lyrics from Nirvana's song "Sliver."
When she stretched her entire body forward, her short, black skirt inched higher, giving him an incredible view of her sweet, rounded backside. He swore under his breath at the tempting sight. She wore fishnet tights and thigh-high boots that were right out of every red-blooded male's fantasy.
His whole body tightened, not in danger but in hunger. Lust and need hummed through him, an invigorating feeling that he hadn't experienced in a very long time.