A Christmas Wedding
For those of you haven't read the holiday edition of Marriage Under Fire, which features Maddy and Hunter's wedding, today's blog includes the bonus content. Enjoy this short read with a mug of hot cocoa or in between wrapping gifts!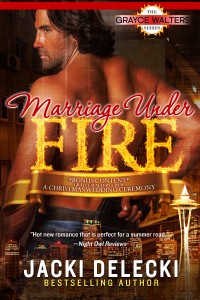 Hunter, Colonel Dawson, his commanding officer, and his best friend Drew stood in Aunt Aideen's library waiting to be called for the wedding ceremony. Through the pane-glass windows Hunter could see could see falling snow beginning to blanket the Queen Anne neighborhood. Maddy must be ecstatic that her wish for a snowy Christmas Eve wedding had come true.
"Sir, it means a great deal to Maddy and me that you were willing to come on Christmas Eve to perform this service," Hunter said.
"I've got a special spot for Maddy. She is the daughter we never had. My wife would've loved to have had a daughter. Three sons, three Marines."
"I hope you won't have any trouble getting to the airport, sir."
"I'm sorry I can't stay for the celebration. But I know how Seattle closes down when it snows."
Hunter tried to keep the conversation going with the Colonel, but all he could think about was Maddy. Was she excited, nervous? He had so much wanted to share Maddy's day. She told him about her conversation with Dr. Walters, and how she had realized how much she would miss her parents on her wedding day.
He didn't want her to feel alone. It had been only twenty-four hours since he kissed her goodnight before she spent her last night as a single woman with Angie. After today, he would never spend another night without her.
He could hear Aunt Aideen's commanding voice directing the guests to their seats in the living room. James had decorated the entire house with flowers. The chairs lining the living room had white ribbons and bouquets attached to each aisle seat. White candles burned throughout the house, and the flowery fragrances blended with the smell of pine from the giant Christmas tree standing in the front window.
Two bars were set up on each side of the library, where the twenty-five guests would gather after the ceremony. While the guests had drinks and appetizers, the staff would remove the chairs from the living room and set up tables for dinner. Everything had been orchestrated as flawlessly as a well-organized military operation by James and Aunt Aideen.
Hunter checked his watch again. He didn't want to admit it, but he had the same nervous tension building in his body that he experienced before a dangerous operation, in spite of the fact that this wasn't an assignment and there was no threat. This was the beginning of his mission to protect and care for Maddy for the rest of his life.
James entered the library in a black tuxedo with a white rose on his lapel. The debonair man looked like he had just stepped out of a James Bond movie. "You're one lucky man. Maddy is more gorgeous than I'd anticipated. Maddy and Angie are both spectacular women, so I have to admit they made my job easy."
Hunter had started to resent James and all the time Maddy had spent planning the wedding with him. But seeing how happy she was, he couldn't really be upset. And it was obvious that James cared for Maddy.
"Is Maddy okay?"
"She's more than okay. She is radiant and excited and pleased as can be that it snowed."
It didn't sound like Maddy was having bridal jitters. He might be more nervous than his bride.
"Colonel, I've arranged for a car service to take you to the airport," James said.
"Thank you. I'm sorry I can't stay, but I can't miss Christmas Eve with my grandkids."
James stiffened and looked at Drew. "May I have a private word with you?"
Drew, in his Special Forces formal dress uniform, was leaning against the wall next to the window. Hunter and the Colonel wore their Marine dress uniforms, as did all his buddies. The only Marines not in uniform were Maddy and Angie.
Drew laughed. "No need. I truly can handle the ring business."
James's dark eyes narrowed. "I'm not worried about the ring. It will only take a minute."
Drew shrugged his shoulders. "Sure."
James gave a slight bow of his head. "Gentleman, excuse us." He looked at his watch. "Only seven minutes before you take your places."
James walked away with Drew following.
Colonel looked at Hunter. "Drew's in trouble again. And why do I think it's about a woman?"
Hunter watched the two men standing outside the door talking. James was definitely incensed about something. His face was red, and he was poking his finger into Drew's chest. Whatever had James hot under the collar, he didn't care about the consequences of provoking Drew—or he had a death wish.
If Drew had offended one of Maddy's friends last night at the rehearsal dinner, Hunter was going to kick his ass—after the wedding, of course. Except Drew was a smooth player and wouldn't push any boundaries that a woman didn't want pushed.
The ultimate alpha, Drew—who outweighed James by fifty pounds—stepped back and nodded. The Colonel winked at Hunter, amused by Drew's submissive response.
James looked again at his watch, then stepped back into the library. "Are you ready to take your places? Colonel, you will go out first. Is there anything you need?"
"Nothing. If you or Aunt Aideen want to join the Marines, I'm always in need of good sergeants."
James rubbed his chin, pretending to contemplate the possibility. "I would get so tired of wearing the same uniform over and over again." And then the ballsy man winked at the Colonel.
The Colonel responded with a loud guffaw.
James looked directly at Hunter. "Give the Colonel and Aunt Aideen a few minutes, and then come out." Hunter felt his heart kick against his chest. He was finally going to make Maddy his wife.
The Colonel slapped him on the back. "Never seen that look before, Hunter. Pure terror from the man who was willing to take on the Taliban singlehandedly." The Colonel rubbed his hands together. "This a great day for my little Maddy. Never officiated a wedding where both the bride and groom were Marines."
Aunt Aideen, in a billowing emerald green dress, marched into the room. "It's our time, Colonel. Let me escort you to your spot."
The Colonel offered Aunt Aideen his arm. "Let me escort you, my lady."
Aunt Aideen fanned her face. "I always did have a soft spot for a man in uniform."
Drew waited at the doorway while the Colonel and Aunt Aideen exited. He looked at Hunter. "Are you ready?"
Hunter shook his head. "We're supposed to give them a few minutes. Just enough time for you to explain what that little side conversation with James was about."
"Nothing to concern you on your wedding day," Drew said laconically.
"What did you do to get James riled up?"
"I think the wedding planning has gotten to his nerves."
Hunter grabbed his arm. "Spill it."
"It really isn't anything. Your sister didn't like me joking with some of the guys about getting hitched."
"That's it?"
"She got all fiery about defending you."
"That doesn't sound like Angie. She's really easygoing."
Drew stopped. "No she's not. She's…"
Hunter would have to finish this conversation later. He needn't worry about his sister, she could take care of herself. Besides, it was time to marry Maddy.
"Let's go." Hunter's heart raced, and his palms were sweaty. He looked straight ahead as he took his spot next to the Colonel in the packed living room. Drew followed and positioned himself next to Hunter.
Everything happened in a blur. The Colonel nodding to him, Angie coming down the aisle, stunning all in red. Hunter didn't really know much about music, but Angie moved gracefully with the music despite her impressively high heels.
And instead of turning to her place, she walked straight to Hunter and hugged him tightly. She whispered, "I'm so glad you came to Seattle." Tears were in her eyes as she stared into his. Eyes that looked just like his and his father's.
If he hadn't come to find his missing sister, he'd never have met Maddy. He hugged Angie so tight that he felt her breath tighten. "Me, too."
Angie stepped into her spot across from him. And they all waited until the church music changed to "Love is All Around." Everyone in the room stood and faced the foyer.
And then Maddy emerged. She was magnificent in a white fluffy gown, her blond curls bobbing. From across the room, he could see her blue eyes focused on him. His heart swelled with possessiveness and love.
James held her arm as they started toward him. The song matched the feeling in the room. Love was all around because of Maddy. She was love incarnate. Her eyes sparkled like the snowy night. She took her time coming down the aisle, smiling first at her VA group, then at Dr.Walters and her parents, and finally at Aunt Aideen. He understood. Everyone was under her spell. He hadn't been to many weddings and didn't know how brides were supposed to act, but Maddy's genuine joy enveloped everyone.
James had tears in his eyes when he presented her to Hunter. He felt a primitive satisfaction when James placed Maddy's hand onto Hunter's. "Take good care of my princess." James's voice broke. He turned and sat next to Aunt Aideen in the front row, dabbing at his eyes with a red handkerchief.
Hunter took Maddy's arm, pulling her next to his side. She never took her eyes away from his face. James was right. Maddy didn't look like the tough Marine. She was a snow angel or a princess, a feminine love goddess, and now she belonged to him.
He didn't care that he was supposed to wait to say it. He didn't care what anyone thought. "I love you, Maddy, now and forever."
Maddy's blue eyes softened. "Now and forever, Hunter."
This special holiday edition of Marriage Under Fire is available for a limited time.