Hello!
If you've arrived on this page, chances are I'm a new author to you. I appreciate your time and interest, and hope you'll take advantage of this opportunity to learn more about me and my books.
Just a bit about myself. I write romantic suspense, both contemporary and Regency era. That may sound like an odd contrast, but I love the flexibility of creating modern-day stories that reflect current trends and events and blending historical details with intriguing plots and strong characters.
My contemporary romantic suspense books are part of the Grayce Walters series. Set in Seattle (where I happen to live), Grayce is an animal acupuncturist who gets drawn into solving mysteries. These books feature danger, romance, military heroes, animal sidekicks and events straight out of the headlines. If you enjoy authors such as Julie Garwood, Jayne Ann Krentz or Elizabeth Lowell, I suspect you would enjoy this series.
The Code Breakers is my Regency romantic suspense series. Readers with a passion for fact-based story elements, as well as the traditional qualities of Regency romance will find pages laced with wartime intrigue, scandal, honor and tender happy-ever-afters.
SPOTLIGHT FEATURE:  Men Under Fire (On Sale April 1-30!)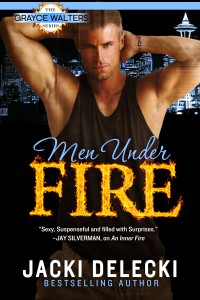 Hollie Thomas, the feisty, tattooed office assistant to Grayce Walters, has come a long way from living on the streets. Along with finding a job she loves, she's found friends and safety. When her new life unravels, she faces dangers that dwarf her troubled past. Fighting to survive, she discovers that sometimes what you need the most might be found in the one person you failed to see coming.
Returning home from the war and struggling to find his way, Sergeant Nick Welby, and his bomb-sniffing golden lab, use their skill set in the last place he'd ever imagined—Seattle's Waterfront. To protect the one woman who matters, Nick and his trusty canine partner will risk everything to rescue her and Seattle from disaster.
Embroiled in Grayce Walters' most perilous case—a terrorist plot with the threat of deadly explosives—can Nick and Hollie work together to save themselves and each other before it's too late?
Amazon | BN | iBooks | Kobo | Google 
Join my mailing list if you'd like to receive monthly news and notes about upcoming releases, exclusive previews and cover reveals, and exciting giveaways. And be sure to connect with me on Facebook and Twitter.
Thanks again for stopping by! I hope you'll give my books a read and let me know what you think.
All the best,
                                                                                     Jacki