Blog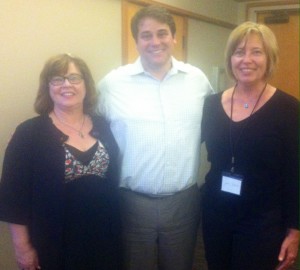 Dan Slater, head of independent publishing at Amazon, was the guest speaker at the June 3rd meeting of Seattle Free Lances. After learning much from this industry expert, I got a picture with him, along with Deb Schneider of the King County Library.
One thing my character Grayce Walters and I have in common is a love of high heels–casual, dressy, classic, trendy. It doesn't matter!
You can get in on the fun this month by posting a picture of your favorite high heels on my Facebook page, which will qualify you for a chance to win a $50 DSW gift card. Enter as often as you wish! The contest will close June 30th, with one winner chosen and announced on July 1st.
I can't wait to see the spectacular selection of high heels this month, but you know what that means…I'm sure to need room in my own closet for a few new pairs!
Have you signed up to receive my newsletter? If not, here's a sample of what you're missing out on!  Click here to join my mailing list for a behind-the-scenes look at the life of a writer, exclusive cover reveals and story excerpts, and special offers.
I hope you'll sign up for my newsletter today so I can stay connected and share news with the people who matter most — my dedicated readers!
If you're a shoe fiend like Grayce Walters, you're going to love my June contest! The Grayce Walters Best Dressed Heels contest will run throughout June, and whoever posts the best high heels will win a $50 DSW gift card. Watch for details on my Facebook page.