Blog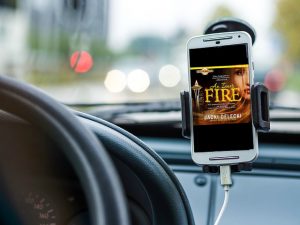 A friend of mine was moving from Virginia to Florida – a 13-hour trip in the minivan with two toddlers, a cat and a dog. She had originally planned to make the trip in two days, but ended up driving straight through. Why? Because she couldn't turn off the Harry Potter audiobook she was listening to.
Audiobooks are a great way to make the most of long hours in the car. You can listen on your own device or plug into the car's sound system so everyone can enjoy the story.  Add audiobooks to your next road trip with these easy tips:
Download the Audible or iTunes app to your cell phone or tablet before your trip and make sure it's active.
Test drive your audiobook app and device in the car. Make sure you have necessary cords and connectors.
Select a few titles before you head out. Download them so you don't need Wi-Fi to stream them.
Listen to the audio sample before selecting a new audiobook. Make sure you'll enjoy the narrator's performance to avoid being disappointed.
Take a group vote to decide on audiobooks everyone in the family will enjoy.
Choose books that are funny, entertaining and engaging.
Ask friends to recommend that favorite audiobook narrators and audiobooks.
For a chance to win one of my audiobooks, comment with your favorite audiobook or narrator.
Keep your Fourth festive (and your summer sunny) by implementing these strategies to keep pets safe and healthy. It is especially important to consider the welfare of your pets during Fourth of July celebrations because many are terrified of fireworks and loud noises.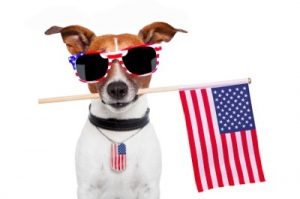 Keep pets indoors.
Use only pet-specific products such as bug repellant and sunscreen.
Prevent pets from drinking alcohol, which can poison them.
Outfit pets with ID tags and/or microchip. Keep a clear, current picture of your pet in case they get lost.
Do not use fireworks around pets.
Keep harmful chemicals such as lighter fluid and citronella products away from pets.
Don't give pets table food. Many human foods are hazardous to animals.
Supervise children around pets who may be agitated or frightened by loud noises. Additionally, make sure children do not inadvertently leave behind toys, such as glow sticks, which dogs may chew and ingest.
Secure your pet in a safe, quiet, comfortable area at home while you enjoy fireworks and celebrations.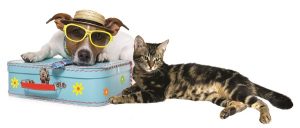 If traveling with your pet, bring health/vaccination certificates. Check any requirements if you are traveling internationally or flying.
Plan ahead to find pet-friendly hotels.
Install pet restraints, pet barriers or use a travel crate in your vehicle to avoid your pet being injured in an accident or distracting the driver.
Pack pet gear for your road trip: water bowl, toys, dog food, leash, grooming supplies and pet first-aid kit.
Never leave pets alone in an unattended vehicle, especially in hot weather.
Know the signs of heat stroke (rapid panting, bright red tongue, thick sticky saliva, weakness, vomiting, diarrhea) and proper treatment.
Share your pet safety tip!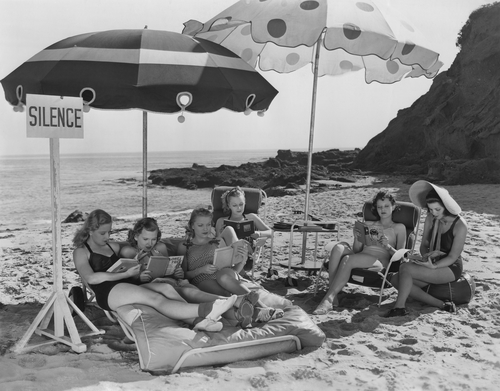 Welcome summer! The warm weather season is officially underway. For many people, summertime is an opportunity to slow down and enjoy life. If personal obligations like school, family, or work keep you too busy to participate with a book club during the rest of the year, consider setting up a summer book club. Not sure where to start? Here are some tips and suggestions.
Identify potential book club members. This can include friends, family, coworkers, neighbors, etc. Consider the tone and theme of the club to help determine the best fit of members. Do you want a casual girls' night out or something for a range of ages?
Determine when your book club will meet. This will depend on members' availability. Are most people available during the day or in the evening? How about weekends? Where will the group meet? Decide on frequency and how long meetings will be. Don't be intimidated by logistical details. Book clubs don't have to be hours and hours long. How about an hour meet-up at the local coffee shop? The goal is to merge your love of reading and time with special folks.
Decide what book(s) members will read. Your book club can be any format you choose. Instead of everyone reading the same book, maybe members share recommendations and brief critiques of books they are reading independently. If you prefer a more traditional approach, where everyone reads the same book and shares a discussion, check a best-seller list or accept suggestions from members. Put the list of titles to a vote and go from there. Here is an article with the year's most anticipated book club reads.
Recruit volunteers. Invite members of the group to help organize the book club:
Someone to send out meeting reminders
Discussion moderators
Refreshments (if appropriate)
Research, such as author bio, book club discussion notes/questions
Decide on ground rules/meeting format. Will the conversation be casual or is each person expected to contribute to the dialogue? How will the moderator/group handle interruptions, keep the conversation on topic and make sure every person has a chance to be heard? Develop a list of questions to facilitate the discussion.
Read, relax and enjoy!
Do you have tips for setting up a book club or book recommendations? Post your comments here!
I love dogs. They are noble and heroic and worthy of being included in my romantic suspense stories. For many years, Gus and Talley, my two Golden Labs, were my constant companions; they inspired me to include four-legged characters in my books because of the unique relationships people and animals share.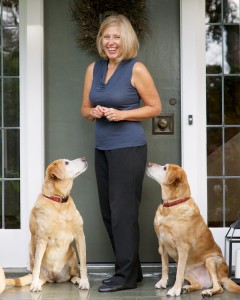 When I was researching topics for today's blog, I came across a website for an impressive canine–Surf Dog Ricochet (or Ricki, as she is called). The achievements of this very special SURFice dog® highlight the endearing qualities of all service dogs: loyalty, personality, dedication, steadfastness, comfort and unconditional love.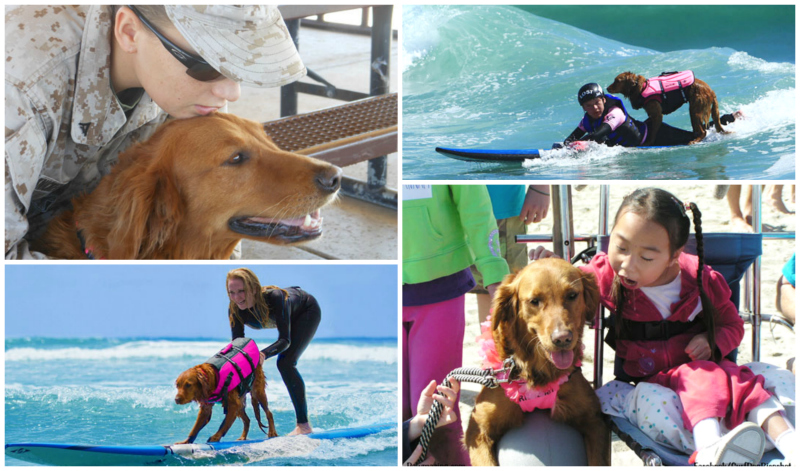 After "flunking out" of training as a service animal, Ricki's owner wasn't sure what to do with the puppy.  She enjoyed surfing and, at fifteen months, took third place in the Purina Incredible Dog Challenge surf competition. Ricki's knack for surfing created a unique opportunity for her to work with special needs kids and peoples with disabilities on the water.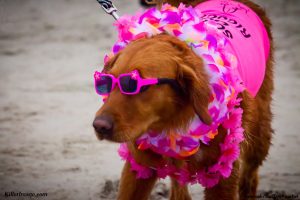 One of Ricki's other talents is her ability to detect stress and anxiety in people. This is one reason therapy dogs are being used to treat service members with PTSD and children with autism. Read more on this on Ricochet's website.
Over the course of Ricki's career as a therapy dog and philanthropist, she has raised almost $500,000 for various causes, won top dog awards and become a media star. You can read her story in Ricochet: Riding a Wave of Hope with the Dog Who Inspires Millions and catch her in Super Power Dogs, which comes out in 2018.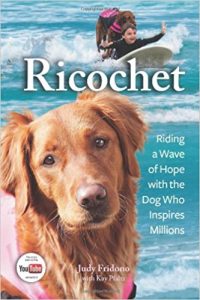 Part of what is most inspiring about Ricki's story is that her "pawsome" success as a surf therapy dog was not intentional. That's a wonderful reminder that when life doesn't go as planned or we fall short of our goals, there is still the potential to become or experience or achieve something amazing.
See Ricki's incredible photos and learn more at her website: www.surfdogricochet.com.
Photos of Ricochet used with permission.
Save
Save
Save
Save
Last weekend I attended the Readers & Writers Seattle event. As always, the best part of the event was meeting readers in person. Okay, I lied. The ripped cover models were the best part of the event. If you've ever attended a book signing or reader event featuring cover models, you'll just nod and agree. If you haven't….find one to attend ASAP!
Of course I was so busy enjoying the eye candy that I forgot to get photos with them. I did, however, get pictures with some of my reader and writer friends.
Some of the readers created "memory books" with a page dedicated to each author. They collect autographs and it was an honor to sign my page in this reader's book.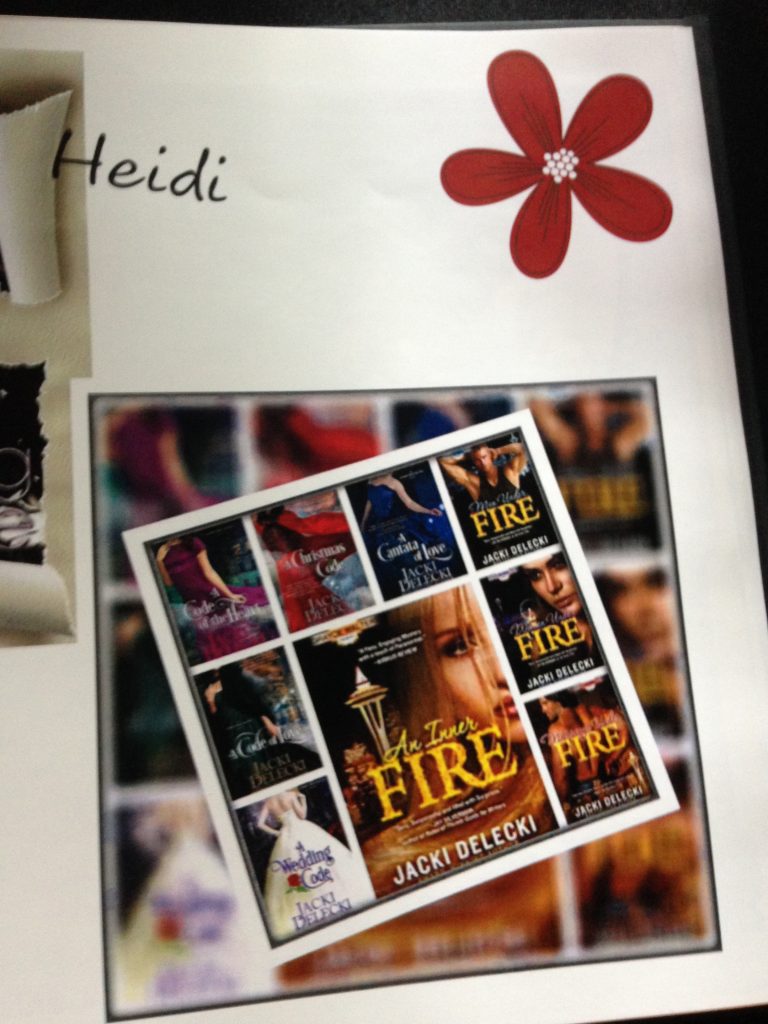 Here's a group photo taken at the event. FYI, tickets for 2018 are already on sale!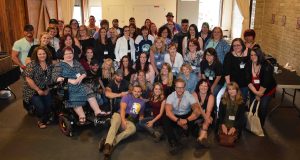 Save
Save