Blog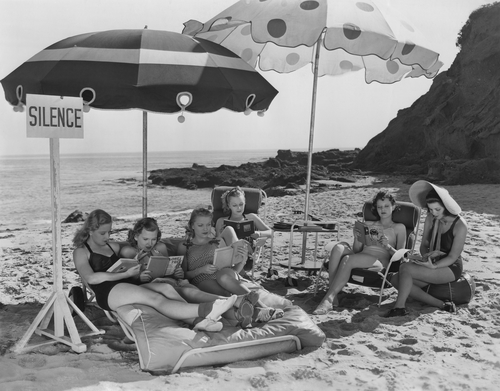 Welcome summer! The warm weather season is officially underway. For many people, summertime is an opportunity to slow down and enjoy life. If personal obligations like school, family, or work keep you too busy to participate with a book club during the rest of the year, consider setting up a summer book club. Not sure where to start? Here are some tips and suggestions.
Identify potential book club members. This can include friends, family, coworkers, neighbors, etc. Consider the tone and theme of the club to help determine the best fit of members. Do you want a casual girls' night out or something for a range of ages?
Determine when your book club will meet. This will depend on members' availability. Are most people available during the day or in the evening? How about weekends? Where will the group meet? Decide on frequency and how long meetings will be. Don't be intimidated by logistical details. Book clubs don't have to be hours and hours long. How about an hour meet-up at the local coffee shop? The goal is to merge your love of reading and time with special folks.
Decide what book(s) members will read. Your book club can be any format you choose. Instead of everyone reading the same book, maybe members share recommendations and brief critiques of books they are reading independently. If you prefer a more traditional approach, where everyone reads the same book and shares a discussion, check a best-seller list or accept suggestions from members. Put the list of titles to a vote and go from there. Here is an article with the year's most anticipated book club reads.
Recruit volunteers. Invite members of the group to help organize the book club:
Someone to send out meeting reminders
Discussion moderators
Refreshments (if appropriate)
Research, such as author bio, book club discussion notes/questions
Decide on ground rules/meeting format. Will the conversation be casual or is each person expected to contribute to the dialogue? How will the moderator/group handle interruptions, keep the conversation on topic and make sure every person has a chance to be heard? Develop a list of questions to facilitate the discussion.
Read, relax and enjoy!
Do you have tips for setting up a book club or book recommendations? Post your comments here!
I love dogs. They are noble and heroic and worthy of being included in my romantic suspense stories. For many years, Gus and Talley, my two Golden Labs, were my constant companions; they inspired me to include four-legged characters in my books because of the unique relationships people and animals share.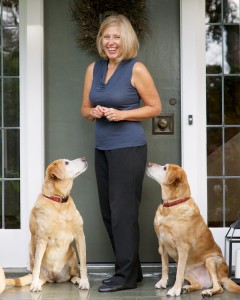 When I was researching topics for today's blog, I came across a website for an impressive canine–Surf Dog Ricochet (or Ricki, as she is called). The achievements of this very special SURFice dog® highlight the endearing qualities of all service dogs: loyalty, personality, dedication, steadfastness, comfort and unconditional love.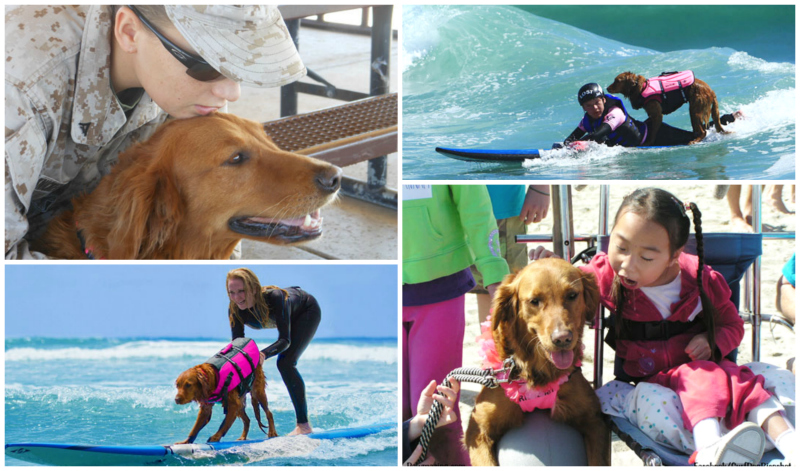 After "flunking out" of training as a service animal, Ricki's owner wasn't sure what to do with the puppy.  She enjoyed surfing and, at fifteen months, took third place in the Purina Incredible Dog Challenge surf competition. Ricki's knack for surfing created a unique opportunity for her to work with special needs kids and peoples with disabilities on the water.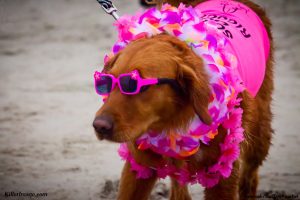 One of Ricki's other talents is her ability to detect stress and anxiety in people. This is one reason therapy dogs are being used to treat service members with PTSD and children with autism. Read more on this on Ricochet's website.
Over the course of Ricki's career as a therapy dog and philanthropist, she has raised almost $500,000 for various causes, won top dog awards and become a media star. You can read her story in Ricochet: Riding a Wave of Hope with the Dog Who Inspires Millions and catch her in Super Power Dogs, which comes out in 2018.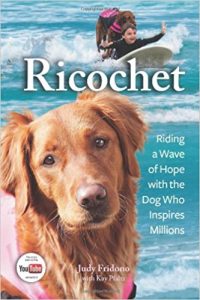 Part of what is most inspiring about Ricki's story is that her "pawsome" success as a surf therapy dog was not intentional. That's a wonderful reminder that when life doesn't go as planned or we fall short of our goals, there is still the potential to become or experience or achieve something amazing.
See Ricki's incredible photos and learn more at her website: www.surfdogricochet.com.
Photos of Ricochet used with permission.
Save
Save
Save
Save
Last weekend I attended the Readers & Writers Seattle event. As always, the best part of the event was meeting readers in person. Okay, I lied. The ripped cover models were the best part of the event. If you've ever attended a book signing or reader event featuring cover models, you'll just nod and agree. If you haven't….find one to attend ASAP!
Of course I was so busy enjoying the eye candy that I forgot to get photos with them. I did, however, get pictures with some of my reader and writer friends.
Some of the readers created "memory books" with a page dedicated to each author. They collect autographs and it was an honor to sign my page in this reader's book.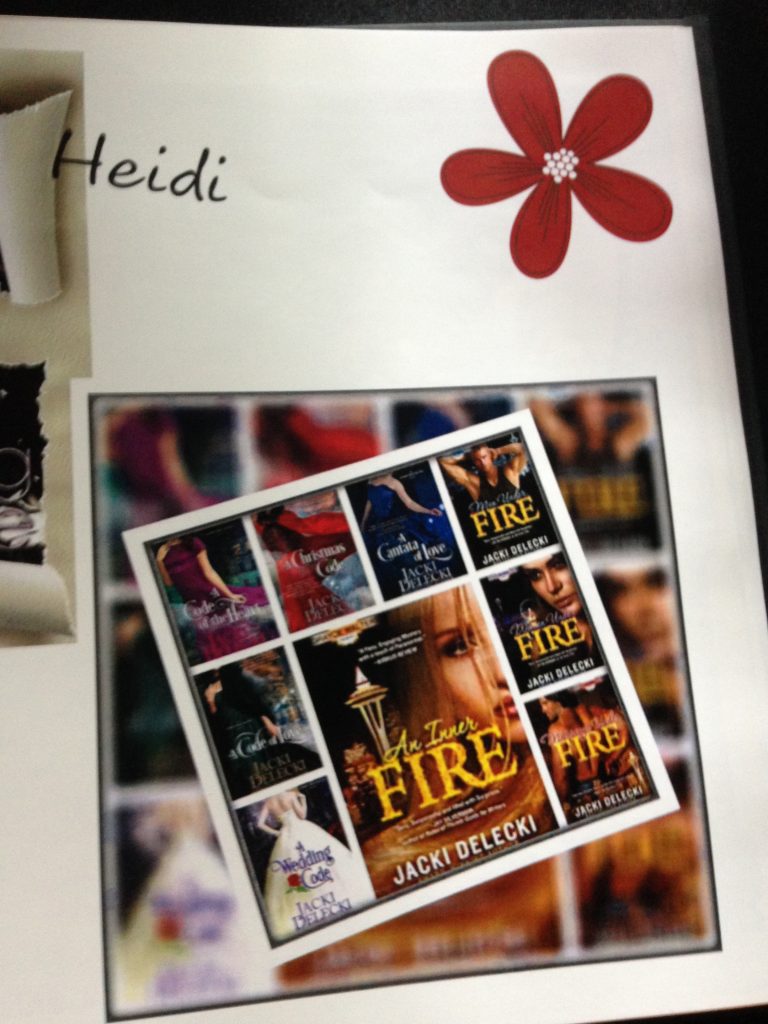 Here's a group photo taken at the event. FYI, tickets for 2018 are already on sale!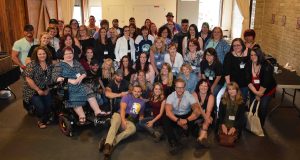 Save
Save
Thanks to everyone who sent me an email to share their plans for the Memorial Day weekend. Many people indicated they would be spending time with family, enjoying the warm weather, gardening, cooking out or simply enjoying the extra day off from work.
I was touched by several of the responses and wanted to share them with you. But first, congratulations to Mary Lou H., the randomly selected winner of a complete ebook collection of my Grayce Walters series, which features military heroes and heroines, plus a $10 gift card to the ebook retailer of her choice.
I am grateful to all those who serve and sacrifice, now and in the past.  Thank you.
All weekend, any of the family sees a vet eating out, we are going to pay for their tables' meals.  It is our way to say Thank You for your service. – Vicki S.
We are going to have a BBQ, beer and lots of family and friends. This is a special day for us; my whole family served in the military most of us are Vietnam Veterans. – Dale W.
My husband and I will be spending the weekend with our son, who is in the service.  He is deploying out to the Middle East for a year. – Sonya B.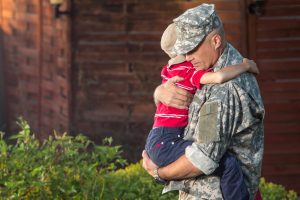 I will be spending Memorial Day with family, reflecting on the loss of my brother-in-law, who served in Vietnam. Also, planning with family on the proclamation for my nephew (Marine) who is retiring after 28 years, this June. – Deborah N.
I am planning to write some letters to thank the service members that are in my church for their service. – Holly F.
We travel to my husband's family in Tennessee where this holiday is still referred to as Decoration Day (because each family buys tons of floral arrangements to decorate the tombstone markers for every deceased member of the family).- Peggy
I am a leader of a Boy Scout troop and we always participate in the placing of flags on veteran's graves for Memorial Day, marching in the local parade and then the correct removal of the flags and disposal of those which are no longer suitable for use.  This day means a lot to me, since both parents and multiple relatives have served in the military. – Cathy B.
This Memorial Day, I will be at a memorial service that will honor those who have given their all for this country. I hope everyone will honor our military. It's not just those who wear the uniform, it's their family as well. They give just as much! – Marlene M.
For this Memorial Day I will be going to a family get-together. All the family shows up and that includes friends. Before eating we have a moment of prayer. We all have a good time catching up on all the family news. – Sharon E.
We will be having a special church service on Sunday honoring our fallen.  We have a number of active duty military.  Their squad recently had casualties on their last mission in the Middle East.  After our church service, we are having a church picnic and we'll be playing cornhole and horseshoes.- Linda R.
My in-laws recently moved to Arizona so we will be having a small family barbecue.  I only wish that I could be near my father and step-mom in Illinois though.  My dad is a retired Marine of 20 years and we are extremely proud of him for that. – Cyndi J.
There will be a service in my hometown of Middleport, Pennsylvanian. This is done every year for Memorial Day. This year is a little sad. My father who was stationed in Pearl Harbor when the Japanese attacked passed away last December. He always honored Memorial Day. The flag over our Memorial Gardens is flying in his honor. – Pat H.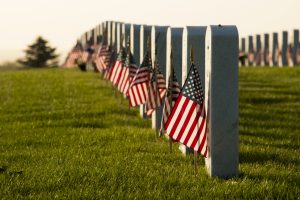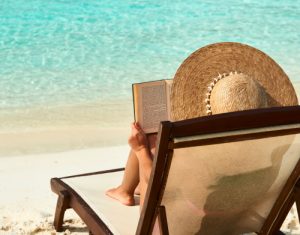 It's time to start making plans for the summer. Are you traveling? Going on vacation? Visiting friends and family? Relaxing at home with a "staycation"? Boy, just talking about relaxing summer days makes me want to start a pitcher of sun tea, kick off my flip-flops, find a shady place to set up my hammock and read a good book.
If your To Be Read pile is getting low, check out these two giveaways. You could win a bundle of Regency romances, ebooks, gift cards or a Kindle Fire or Nook Tablet. Good luck and happy summertime reading!
Follow your favorite authors on Amazon and BookBub for a chance to win 80+ historical romance plus other prizes! To participate, click here: http://bit.ly/rmh-may17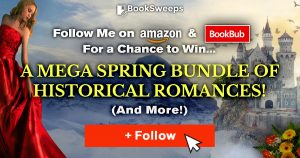 180+ Author Giveaway! Win $1,000 in Books
One Grand Prize Winner – One of every book in the event!
Multiple Genre Grand Prize Winners – Get all the books in your favorite genre!
One Winner of Each Individual Book!
To participate, click here:  https://authorsxp.com/giveaway/mega-multi-genre-giveaway